Faculty Emeritus
Dr. Delores Huff
Professor, 1985—2005
Educational Background
Harvard University, Ed.D., 1979
Tufts University, M.A.,1973, B.A., 1972
Awards and Special Honors
Provost Honored Faculty Award (dates)
UCLA Post-Doctorate Fellow (dates)
National Arts and Humanities Fellowships (dates)
Whitney Foundation Research Fellowship (dates)
Courses Taught
Introduction to Contemporary Indian Affairs
Indians of California
American Indian-Federal Law
The Politics of American Indian Education
American Indian Religion
American Indian History
Ethnic Diversity in the U.S.
Professional Service
Coordinator, American Indian Studies, CSU, Fresno, 1985-present
Assist. Prof. and Coordinator, American Indian Studies, CSU, Chico, 1979-1985
Lecturer, American Indian Studies, CSU, San Diego, 1978-79
Principal, Pierre Indian Learning Center, Pierre, South Dakota, 1976-78
Director of Education Programs, 1969-73
Professional Organization Memberships
National Indian Education Association
California Assembly of Indian Women
California Indian Education Association
Boston Indian Center (co-founder)
Women's Educational Resource Center (co-founder)
Academic Advisory Board
California State University Chancellor's Advisory Council on American Indian Studies
California State Department of Education, Indian Education Advisory Board
National Indian Education Association
Professional and Research Interest
Indian Education and Economic Development
Publications
To Live Heroically—Institutional Racism and American Indian Education. Albany, NY:
SUNY Press, 1997.
"Women in American Indian Culture." Chapter in Wilma Mankiller. The Unforseen Legacy of the Federal Indian Relocation Program. Susan Castillo (Editor). Opporto, Portugal: Fernadao Possao University Press, 1996. Reprinted and translated into Italian for the Italian Journal, Teepee, University of Torino Press.
" Teaching in a Multicultural University. Chapter in On Becoming a Mensch or a Mentor.
Helen Roberts, Teaching and Learning Institute. CSU. Sage Publications. 1994.
" J. Edgar Hoover and the Indians." European Journal of American Indian Studies.
Vienna. 1993.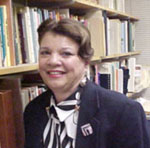 American Indian Graduate Center
Campus Resources: