Faculty Emeritus
Dr. Lily Small
Professor 1972-2003
Educational Background
University of the Pacific, Stockton, California, Ed.D. (Curriculum & Instruction), 1976
California State University, Fresno, M.A. (English), 1971
California State University, Fresno, B.A. (English), 1970
Courses Taught
American Poverty
Ethnic Experience
African American Women
Administrative Experience
Chair, Ethnic Studies Program, CSU, Fresno, 1990-1998
Director, Project Enhancement, California State University, Fresno Foundation, Summer 1989-90; 1992-93
Director, University Affirmative Action & Academic Specialist, 1977-82
Professional Service
Professor, Ethnic Studies, CSU, Fresno, 1982-03
Associate Professor, Ethnic Studies, CSU, Fresno, 1978-82
Member of Human Relations Commission, CSU, Fresno, 1995-96
Member of Athletic Behavior Review Committee, 1995-96
Founder and President of FCPW Investment Club
Special Honors
Honorary Member Award from Africana Students United (ASU), 2003
Community Service Award from Church of the Living God and Living Heritage Drama Group, 1999
Rosa Parks Award for Service and Dedication to the African American Community, 1999
Human Relations Commission Community Recognition Award (City of Fresno), 1999
Nominated for the Fresno Bee/Channel 30/YWCA Top Ten Business/Professional Women of the Year, 1994
President, Phi Kappa Phi National Academic Honor Society, 1980-81
Secretary, Phi Kappa Phi National Academic Honor Society, 1978-80
Cited in Who's Who in the West and Mid-West, 1973
Professional and Research Interest
The Impact of race and gender on successful women who migrated to the United States, England, and Canada from English speaking Caribbean countries
Selected Publications
"Student athletes deserve civility from Fresno State." Article published in The Fresno Bee, October 25, 1997.
"Gems, Precious Words for Children." Published by Enhance Educational Services, 1998.
Professional Organization Memberships
Phi Kappa Phi National Academic Honor Society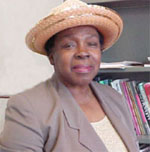 AFTER THIRTY-THREE YEARS OF SERVICE:
A DEDICATION TO DR. LILY B. SMALL
See photo gallery of Dr. Small's Retirement Party
Dr. Lily B. Small has made outstanding contributions to the Africana & American Indian Studies Program (formerly Ethnic Studies) at California State University, Fresno for thirty- three years. Lily is a pioneer in the field of African American Studies coming at a time when the field was raw, when only anthropologists, sociologists, or historians were teaching about the Black experience in America. She brought passion, intellectual rigor and humanity into this newly designed discipline. Her accomplishments speak volumes of her dedication to the well being of our students, the Ethnic Studies Program, and the campus community-at- large. No doubt her proudest departmental accomplishment was in gaining approval of the major in African American Studies in 1998.
Dr. Small has served as more than a classroom instructor to her students. She has been a friend, confidant, and surrogate parent to countless number of students during her tenure. She exposed students and the community to the reality of what it is like to be poor, black and uneducated in America today—a reality that most of her students, black and white, were unaware, or thought of as in the past tense. She taught students about the hatefulness of racism and the cost of racism to America's soul. And her humanity went further as she exhorted students to work harder, learn more and go to the limit of their capabilities. The late Dr. James Rogers described Dr. Small as "The Mother of Ethnic Studies." Over the years as professor and chair of Ethnic Studies, she has truly epitomized that characterization.
Campus Resources: