Geography and City and Regional Planning
Derya Ozgoc-Caglar, Ph.D.
Assistant Professor
Urban and Regional Planning
Biosketch
Dr. Derya Ozgoc-Caglar is currently an Assistant Professor of Urban and Environmental Planning in the Department of Geography. Dr. Ozgoc-Caglar received her bachelor degree in City and Regional Planning from Middle East Technical University (Ankara, Turkey) with a minor in Geographical Information Systems and Remote Sensing in 2002, her masters degree in Urban and Regional Planning from Ball State University (Muncie, Indiana) in 2004, and her Ph.D. from the Department of Forestry and Natural Resources at Purdue University (West Lafayette, Indiana) in 2008.
Her research interests lie at the intersection of decision theory, applied decision and spatial analysis techniques, GIScience and economic-environmental models to address land use and environmental and natural resource management decisions, environmental sustainability, and the interactions among urban conditions and environmental amenities. Her training and professional experience concentrates on the development and application of multiple criteria decision analysis models to assist in allocating environmental funds across regions, projects and programs, and improve the planning, assessment, and implementation of natural resource, conservation, and preservation policy and programs.
She is particularly interested in developmentand implementation of decision models, spatial analysis, econometric techniques, computer applications, and planning theory and methods to critically analyze the complex and embedded interactions of the built environment and the natural environment and stimulate the interrelationships among residents, working landscapes, and protected areas in order to reduce impacts and restore quality of both the natural environment and human settlements.
Dr. Ozgoc-Caglar has a deep interest in collaborative projects that involve students and scholars of diverse backgrounds. She seeks innovative, collaborative, multi- and inter-disciplinary research practices to promote public-private and academic partnerships to improve the delivery of urban environmental services, including the design of an analytical framework for building partnerships in any sector or context focused on land conservation and the design and planning of sustainable spaces.
[ Biosketch][ Education][ Research][ Appointments][ Publications][ More][ Contact]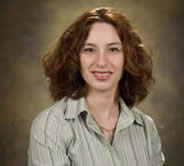 Campus Resources: