Community and Regional Planning Center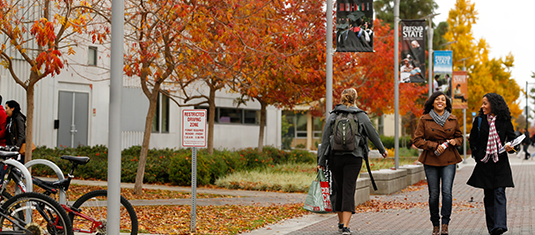 Academics
CRPC is committed in providing highly innovative, real-world learning experiences to prepare students to become leaders in the field of Community and Regional Planning in the San Joaquin Valley.
Students
Beginning Fall 2016, Fresno State will be offering a Certificate of Advanced Study in Community and Regional Planning. This certificate program is proposed as a post-undergraduate professional program providing key theoretical, professional, technical, and ethical foundation classes in the planning field.
Enrollment in this certificate program requires admission to postbaccalaureate standing at Fresno State and is available through a full online delivery mode to accommodate participants' work schedules. The program consists of 5 courses for a total of 15 units of graduate level academic credit:
1) GEOG 201 Foundations in Urban Planning (3 units)
2) GEOG 202 Land Use Regulation, Law and Ethics (3 units)
3) GEOG 203 Community Development and Planning (3 units)
4) GEOG 204 Environmental Planning (3 units)
5) GEOG 205 Transportation Planning (3 units)
If you would like more information,please send an email to jennac@csufresno.edu or visit the Division of Continuing and Global Education website.
The Bachelor of Arts degree with a major in geography requires the completion of 120 units. Areas of concentration include: atmospheric sciences, environmental studies, global and regional studies, urban and regional planning, geographic information systems (GIS) and remote sensing, and international development studies.
For students pursuing a B.A. in Geography...
The option in City and Regional Planning is designed to provide the knowledge, skills, and values that will enable students to secure professional employment, to perform effectively as planners, to think critically, and to participate meaningfully in the planning profession. The planning option emphasizes practical experience with a rich diversity of planning applications in the city of Fresno, as well as the San Joaquin Valley region.
Students enrolled in this option are exposed to a wide variety of physical and environmental planning issues and problems. Students learn about the array of methods and techniques employed by planners in their work. The courses are carefully selected to introduce the techniques and approaches of city planners and provide excellent preparation for graduate studies in urban and regional planning and in public policy analysis.
The interdisciplinary Urban Studies Minor provides exposure to the analysis of urban and regional problems and serves as an excellent supplement to other academic degree programs offered throughout the university. Courses are offered in Political Science, Anthropology, Criminology, Economy, History, Finance, and Sociology. A special major in urban studies may be designed to meet the needs of students with an interest in this area.
The Geographic Information Systems Certificate of Advanced Study program goal is to provide a strong foundational education that delves into the principles and real-world application of GIS. Students will explore the principle tenets of GIS in completing coursework that builds their credentials and capitalizes on a marketplace hungry for skilled employees.
The courses within the online certificate in GIS enable our students:
To become well-versed in GIS theory
To become knowledgeable in designing and managing spatial databases
To become versed in building and using spatial data models
To be creatively perceptive regarding spatial decision-making
For more information, please visit: www.fresnostate.edu/cge/giscert/[BROKEN LINK]
Faculty
About
CRPC staff coordinates the events and activities of the Urban and Regional Transformation cohort at Fresno State. The URT cohort is a diverse group of faculty members who work as a team to develop research and strategies that support urban and regional transformation in the San Joaquin Valley. Cohort members represent the following colleges and departments:
Colleges
Departments

College of Health and Human Services
College of Mathematics
College of Social Sciences
Craig School of Business
Jordan College of Ag Sciences and Technology
Lyles College of Engineering
Lyles Center for Innovation and Entrepreneurship

Ag Business
Chemistry
Civil and Geomatics Egineering
Construction Management
Economics
Earth and Environmental Sciences
Gazarian Real Estate Center
Geography
Information Systems
Psychology
Recreation Administration
Sociology
Mission
The mission of the URT cohort is to integrate and utilize the expertise of faculty members to improve understanding of and provide innovative responses to urban and regional issues in the San Joaquin Valley. The cohort pursues its mission by (1) conducting interdisciplinary research that produces knowledge which contributes to meeting urban and regional challenges in the Valley and beyond; (2) collaborating with and providing services to local communities; and (3) training students in relevant fields with the ability to serve the transformation of the Valley.
For more information, please visit the URT cohort website at www.fresnostate.edu/academics/urtc.
News and Events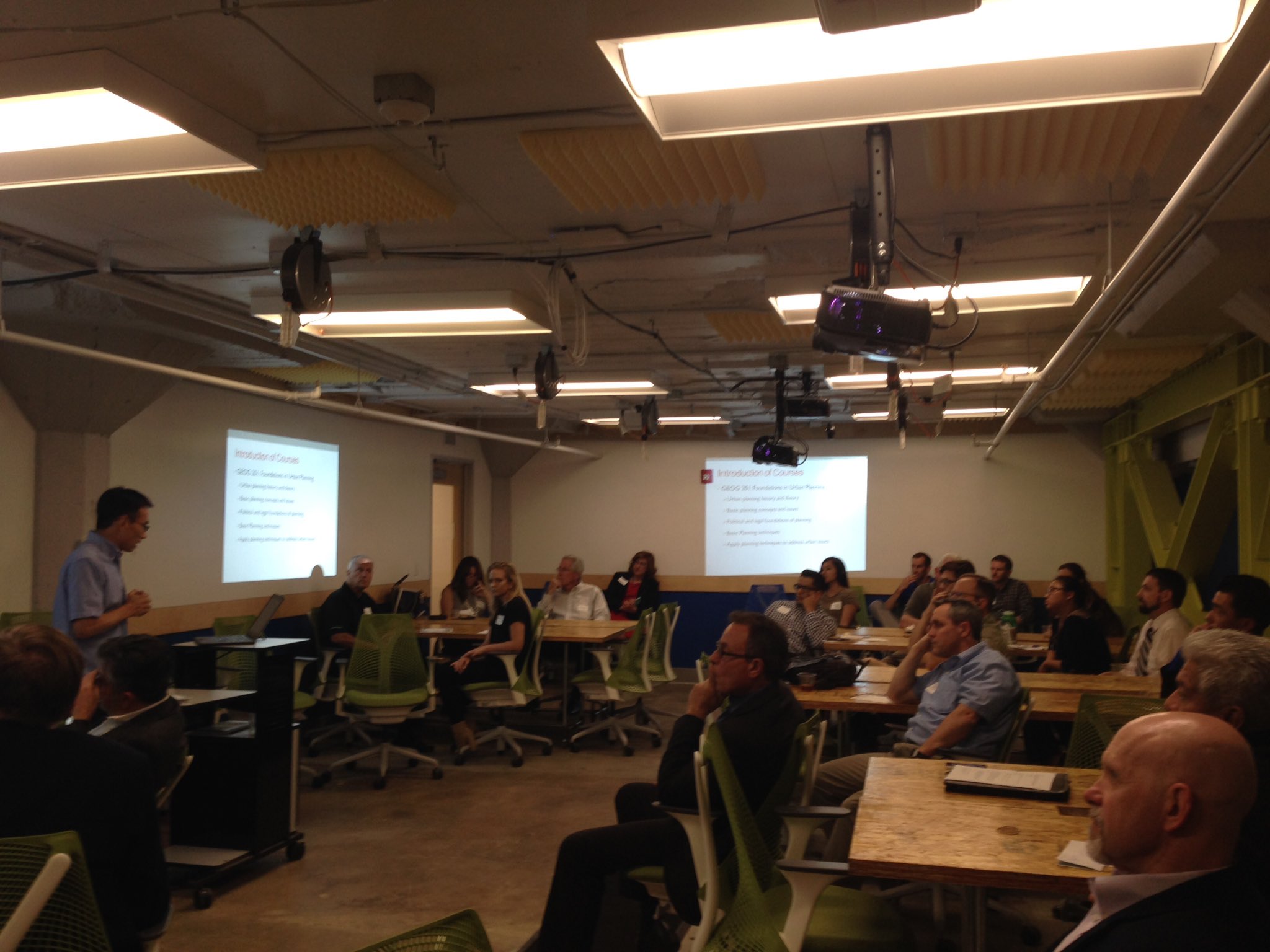 On June 14, over 50 gathered in downtown Fresno for the launching of Fresno State's Community and Regional Planning Certificate Program. Attendees had the opportunity to network and learn about new opportunities for practicing professional planners in the Valley.
Starting this Fall, the fully online program consists of 5 courses for a total of 15 units of graduate level academic credit. To learn more about program, click here.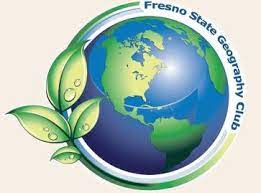 On November 16, 2015, the Fresno State Geography Club hosted over 70 attendees at a Geography Symposium that explored potential career paths of the field. Seven planning professionals and four faculty members presented throughout the event, including:
Steve Johnson, a private-sector meteorologist in the San Joaquin Valley, and co-owner of Atmospherics Group International LLC. He presented about El Niño/ENSO update based on current assessments.
Josh Moulton, a graduate of the Fresno State Geography and City & Regional Planning Department and current PG&E GIS mapper. He discussed how industries such as PG&E use GIS.
David Fey, Executive Officer of Fresno LAFCo. He presented on how a LAFCo operates.
Jeff O'Neal, Senior Planner at Provost & Pritchard Consulting Group. He discussed private sector planning.
Chris Boyle, City of Madera Planning Manager.
Nicole Hoke, Regional Transportation Planner for the Madera County Transportation Commission and graduate of the Department of Geography and City & Regional Planning. She presented on the relation between geography and her job as a transportation planner.
Jeff Fugelsang, Environmental Planner at Stantec Consulting.
Keith Woodcock, City of Sanger Planner and part-time faculty. He discussed the General Plan update process for the City of Sanger.
Dr. Hongwei Dong, Department of Geography and City & Regional Planning faculty. His presentation was titled, "If you Build Rail Transit in the Suburbs, Will Development Come?"
Dr. Segun Ogunjemiyo, Department of Geography and City and Regional Planning faculty and chair. His presentation was titled, "Impacts of July 4th Fireworks on PM2.5 Levels in California Cities."
Dr. Sam Omolayo and Harold Gallagher, faculty and student researcher. Their presentation was about determining the validity of the "compass effect" on the spatial distribution of household income in U.S. cities.
The event was organized by Geography majors and club members, Kevin Wichman (President), Jared Dalley (Vice President), Trevor Stearns (Treasurer), and Jonny Oshalim (Secretary).
Related Links
Campus Links