Daniel Cady
Associate Professor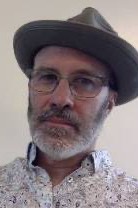 Office: Social Science 116
Email: dcady@csufresno.edu
Office Phone: 559-278-6817
Education:
Ph.D. - Claremont Graduate University (2005)
Fall 2023
| Course | Days/Times |
| --- | --- |
| HIST 187 - California History | M 6:00 - 8:50 pm |
| HIST 210T - American Politics and Religion | W 6:00 - 8:50 pm |
Spring 2024
| Course | Days/Times |
| --- | --- |
| TBD | TBD |
| TBD | TBD |
Twentieth-Century U.S.
American Music
Oral History
Articles and Book Chapters:
"Freethinkers and Hell Raisers: A Brief History of American Atheism, Agnosticism, and Secularism," Atheism and Secularity, Volume II, Edited by Phil Zuckerman. (Westport, CT: Praeger Press, 2009)
"A Battle Transplanted: Southern California's White Churches, Black Press, and the 1920s Ku Klux Klan," Journal of the West Vol. 48, No. 2 (Spring, 2009)
"Hell's Belles: Southern Moralists and the Making of White Southern California, 1915-1930" Journal of Interdisciplinary Humanities Vol. 26, No. 1 (May 2009)
"Woody Guthrie: Ramblin' in Black and White," Woody Guthrie in Los Angeles, edited by Bill Deverell and Darryl Holter (Los Angeles: Angel City Press forthcoming), co-authored with Douglas Flamming
"In Tune with Innovation: West by Southwest Musical Panel at the 2009 Western History Association Conference," California History, 87:3 (June 2010), co-authored with Douglas Flamming
Undergraduate:
California History
Regional/Oral History
American Popular Music
California Studies
American History from 1877
Jewish American Popular Culture
Graduate:
Los Angeles
American West
Currently working of Burning Down a Dream; a book on African Americans' battle for leisure in 1920s Los Angeles. Replete with dance halls, firebombs, apocalyptic preachers, bathing suit contests, and renegade cops, this study bridges the worlds of black middle-class aspirations, white working-class culture, in a city in search of its identity.