Mark Arvanigian
Professor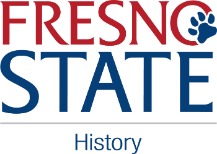 Office: Social Science 121

Email: marvanig@csufresno.edu

Office phone: 559-278-2297

Education:
Ph.D. - University of Durham (2001)
MA - California State University, Fresno (1993)
BA - California State University, Fresno (1991)
Fall 2023
| Course | Days/Times |
| --- | --- |
| HIST 5 - European Civilization | TTH 9:30 - 10:45 am |
| HIST 122 - Medieval Culture | TTH 2:00 - 3:15 pm |
| HIST 220T - Church, State, and Crusade in England and Europe | M 6:00 - 8:50 pm |
Spring 2024
| Course | Days/Times |
| --- | --- |
| TBD | TBD |
| TBD | TBD |
| TBD | TBD |
Medieval and early-modern English politics and political culture
Landed economy and society
Political ideas and their expression
War and finance
Aristocratic and gentry cultures
Religious and intellectual history of later medieval England
Books:
Ralph Neville & the Governance of England, 1367-1425 (Book manuscript under contract with Brill).
Articles and Book Chapters:
"Henry V and the North." Reign of Henry V, ed. G. Dodd (Woodbridge [UK], 2012).
"A County Community or the Politics of the Nation? Border Service and Baronial Influence in the Palatinate of Durham, 1377-1413." Historical Research (Journal of the Institute of Historical Research, London), vol. 81: no. 151 (2009), pp. 41-61.
"Managing the North in the Reign of Henry IV, 1402-1408." The Reign of Henry IV: Rebellion and Survival, 1403-1413, ed. D. Biggs and G. Dodd (Woodbridge, 2008).
"Regional Politics, Landed Society and the Coal Industry in North-East England, 1350-1430." Fourteenth Century England, 4 (2006), pp. 175-91.
"The Durham Gentry and the Scottish March, 1370-1400: County Service in Late Medieval England," Northern History, 42: 2 (2005), pp. 259-75.
"'Lancastrianization' of the North in the Reign of Henry IV, 1399-1413," in Reputation and Representation in Later Medieval England, ed. D. Biggs, A.C. Reeves and S. Michalove (Leiden, The Netherlands, 2004), pp. 9-38.
"A Lancastrian Polity? John of Gaunt, John Neville and the War with France, 1368-1388," Fourteenth Century England, 3 (2004), pp. 121-42.
"Henry IV, the Northern Nobility, and the Consolidation of the Regime," in Reign of Henry IV: The Establishment of the Regime, ed. G. Dodd and D.L. Biggs, (Woodbridge, 2003), pp. 117-38.
"Landed Society and the Governance of the North in the Later Middle Ages: The Case of Sir Ralph Eure," Medieval Prosopography, 22 (2001), pp. 65-87.
"Regional Society and National Politics: The Rise of the Lancastrian North," Regions and Regionalism: Essays in Honour of A.J. Pollard, ed. Peter Fleming (Boydell & Brewer, 2016).
"Richard II, the Beauforts and the Political Crisis of 1397," awaiting ed. decision, Historical Research (IHR, London).
"Public Life, Private Power, and the Origins of a Distinct Lancastrian Political Culture," article in revision for Fourteenth-Century England (VIII), 2016.
Undergraduate:
Western Civilization to 1688
Western Civilization since 1688
U.S. History to 1877
U.S. History since 1877
Historical Methods and Writing
Europe in the Middle Ages
Medieval Culture
Medieval History in Film
Later Medieval English Culture and Society
British History through Literature and Film
Europe in the Renaissance
Reformation Europe
Great Figures from the British Past
Great Figures in European History
England from Chaucer to Shakespeare
England to 1485
England and Empire
Readings in Medieval History
Graduate:
Historiography -- Medieval and Early-modern historians, writers, and traditions
Ancient and Medieval Historiography
The Hundred Years' War
France, England and the making of the State
Tudor England
English Political Society in the Later Middle Ages
Late Antiquity: Rome, Byzantium, and the West
Shakespeare's Kings: England in the Age of Richard II and Henry IV
France and England in the Later Middle Ages
England under the Three Edwards
Research and Readings in Medieval History
Honors College:
Honors Introduction to Ancient and Medieval
Emerging Voices after Colonialism: Revolution in Theory, Revolution in Practice
I am finishing a project on the dukes of Lancaster and the political culture they nurtured, and am writing a book-length manuscript on politics and landed society in the north of England for Brill. I am also starting work on a book-length study of kingship, nobility and the political culture of England in the late middle ages.