The Africana Studies Program
The program uses an interdisciplinary and comparative perspective to illuminate the connectedness of the human experience and provide culturally-appropriate knowledge and skills necessary to understand the experiences of African Americans in the United States.
We seek to build bridges across similar "Ethnic or Interdisciplinary" programs at Fresno State (eg., Armenian Studies, Asian-American Studies, Chicano and Latin American Studies, Women's Studies) as well as other traditional academic disciplines (e.g., Anthropology, History, Social Work, Economics, Geography, Sociology, Theater Arts, etc.) that provide knowledge and skills needed to understand the institutional arrangements and cultural constructions as they affect the contemporary American experience of race and ethnicity.
Africana Studies is generally defined as a study of the historical and cultural experiences of African peoples from a variety of academic disciplines. The discipline emerged in the 1960s on the campuses of U.S. colleges and universities to reinforce the need to add courses that dealt specifically with the history and culture of African Americans to the curriculum. Today, Africana Studies emphasizes the fact that the African American experience cannot be understood in isolation but in relation to the experiences of the other peoples of African descent in the Diaspora. The major in Africana Studies at Fresno State is designed to provide an epistemological basis for the understanding of the historical, social, political, and cultural reality of African peoples.
Faculty Specialties
Professors have backgrounds and expertise in African and African American Studies, Literature, Ethnic/Cultural Studies, History, Gender Studies, and Political Science.
All professors have published in prestigious national and international peer review academic journals. Faculty members are recipients of numerous Awards for Teaching Excellence, Research Grants and Fellowship, and Community Service Awards.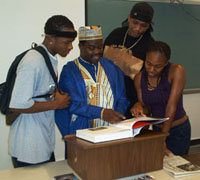 Campus Resources: