The Fresno State Gospel Choir
The Fresno State Gospel Choir was formed in the 1970s to introduce performances of a variety of inspirational songs reflecting the African American cultural experience. Open to all students, staff, faculty, and community members, the choir includes a diverse group of believers from different ethnic, racial, cultural, and national backgrounds. Participation is required through rehearsals, activities, programs, and field trips.
Student members of the Gospel Choir earn academic credit through enrollment in the Gospel Choir class (AFRS 121/Music 102GC) offered through the Africana Studies Program and the Music Department. In this course, students receive training not only in performance techniques, but also study the historical development of African-American gospel music. The course involves the technical and stylistic rehearsal and study of musical literature recognized for its quality and aesthetic value. Although some of the students are music majors, the majority of are non-music majors who represent a wide range of academic majors and class levels.
After a ten year hiatus, the Fresno State Gospel Choir resumed in spring 2017 under the direction of Dr. Asia Smith.
It is an excellent recruiting tool for the university with performances at local churches, schools and colleges and participation in annual university events including the African American Student Recruitment Conference and the African American Graduation Ceremony.
The choir will perform a fall concert in December and a spring concert in May to the university and community audience featuring several gospel composers whose works are deeply-rooted in the African-American tradition.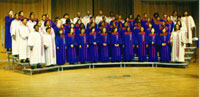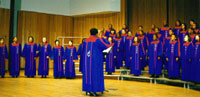 Gospel Choir 2017