Alumni & Friends
Africana Advisory Council
Purpose
Advise the Chair on curricular and extra-curricular activities that promote the growth of the Program.
Recommend major programmatic and policy initiatives that promote the heritage and accomplishments of peoples of African descent.
Build cooperative bridges for mutual support and understanding between the community and the Africana Studies Program.
Serve as liaisons between the Program, other faculty/staff at Fresno State and other educational institutions in the local community.
Sponsor events to support our students' academic and professional endeavors.
Council Members
Mr. Charles Francis (Fresno City College Training Institute)
Mr. Corwin Harper (Administrator, Kaiser Permanente-Fresno)
Mr. Rutherford Gaston (Retired School Principal, Fresno Unified School District)
Dr. Rosylin A. Bessard (District Coordinator, Alternative Education Programs, Fresno Unified School District)
Mr. Sam Norman (Rios Company)
Dr. Ned Doffoney (President, Fresno City College)
Dr. Willie Brown, Jr. (Medical Practitioner)
Dr. Darryl Stampps (The Ramsey Group)
Mrs. Veda Ramsey (The Ramsey Group)
Dr. Dympna Ugwu-Oju (State Center Community College District)
Mr. Larry Hodges, Assistant Vice President, Merrill Lynch)
Dr. Malik Simba (History Department, Fresno State)
Dr. Jane Middleton (Chair, Social Work Education Department, Fresno State)
Prof. Thomas Ellis (Theater Arts Department, Fresno State)
Ms. Maxine McDonald (Academic Enhancement Services, Fresno State).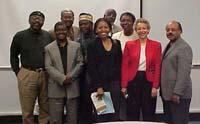 Some Africana Council Members and Faculty at Inaugural Meeting
Alumni Association
membership information, events calendar, member services
Campus Resources: