Faculty and Research
The AIS program is made up of faculty with backgrounds and expertise in federal-Indian law, Indigenous histories, oral traditions and literatures, NAGPRA, cultural preservation, Indian Education, archaeology, tribal administration, cultural studies, and American Indian affairs.
Department Contact Information:
Office: Social Sciences Building, Room 106
Office Phone: 559.278.6237
Department Mailing Address:
American Indian Studies
California State University, Fresno
2225 East San Ramon, M/S MF 19
Fresno, California 93740
Staff:
Office: McKee Fisk 243
Phone: 559.278.2858
Hours: M-F 8:00-5:00pm; 12-1 closed for lunch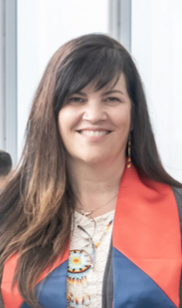 Dr. Leece Lee-Oliver (Blackfeet, Choctaw, Wyandot, Cherokee), Ph.D. UC Berkeley, is a scholar and activist whose work is dedicated to understanding how American Indians, Indigenous peoples, and marginalized peoples experience and respond to national policies and societal beliefs that pose challenges to their sovereignty, safety, and security. Her teaching and writing reflect the transgressive political work of Red feminist and Third World liberation scholars. Leece's book manuscript, Red Feminist Roots: American Indian Women, Coloniality, and the Liturgies of Death and Life, examines the phenomenon of American Indian women's racialization during colonialism to consider how the trope of "the squaw" foments violence against American Indian women and children today. The book pays homage to the legacies of resistance in American Indian activism and shows how American Indian communities draw on cultural traditions to navigate anti-"Indian" violence and promote and protect the lifeways of American Indians today.
Dr. Lee-Oliver's current work includes research and consultation on the contemporary epidemic rate of violence against American Indian women and girls, American Indian wellness practices, and creating support systems for American Indian youth. Dr. Lee-Oliver is the Fresno State University representative in the California State University Chancellor's Native American Initiative. She serves on the board of the Fresno American Indian Health Project, which provides cultural and wellness services to American Indians in the Central Valley. She is also Assistant Professor of Women's Studies.
Office: Social Sciences Building, 106B
Phone: 559-278-5839
Email: lleeoliver@mail.fresnostate.edu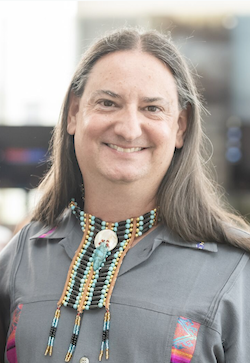 Professor Kenneth N. Hansen, Ph.D. Texas Tech University, Political Science and History, holds a joint appointment in both the Political Science Dept., where he mostly teaches public administration and policy, and the American Indian Studies program. He was the Co-Coordinator of the then-Africana and American Indian Studies program from 2007-2010. He also served as a faculty advisor for the Native American student group and a leader of the Fresno State Powwow Committee for more than a dozen years. Dr. Hansen has taught the following courses for the American Indian Studies program over the years: Contemporary Life of the American Indian, Indians of California, American Indian Law, and topics courses on Tribal Governance and Self-Determination. He has worked with President Joseph Castro on the CSU system and Fresno State Native American Initiatives. He was a founding member and the first Chair of the Fresno State American Indian Faculty and Staff Association, which hosts the annual American Indian graduation dinner and ceremony. He also was the leader and key faculty member of the Native American Scholars learning community, which existed from 2015-2017. When not on campus, Dr. Hansen serves as tribal staff for the Chalon Indian Nation, located in Bakersfield, CA.
Dr. Hansen is a co-editor (with Tracy A. Skopek) and contributor to the anthology The New Politics of Indian Gaming (2011, University of Nevada Press). He has over a dozen refereed publications in such journals as Administration & Society, American Review of Politics, American Review of Public Administration, Green Theory & Praxis, Politics & Policy, American Indian Culture and Research Journal, International Relations of the Asia-Pacific, and Administrative Theory & Praxis. He is a former co-editor of Green Theory & Praxis and regularly reviews manuscripts from other journals.
Office: McKee Fisk 218
Phone: 559-278-2260
E-mail: kennethh@csufresno.edu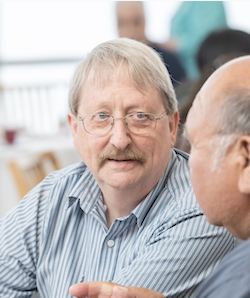 Dr. John Pryor is an Archeologist in the Anthropology Department. Dr. Pryor has over 25 years of field experience mostly working in California, with additional experience in England, and the Eastern US. Dr. Pryor's area of expertise is California Archeology and he is actively involved in teacher education. In addition to teaching and conducting field work, he offers specialized courses designed for teachers or future teachers ranging in topics from Archeology in the classroom, Sierran Prehistory, California Native Plants and their uses by Native Americans, and Ancient Empires.
In addition to these areas of expertise, I have a long standing interest in Human evolution, and have worked as a forensic archeologist collecting data at murder sites. Dr. Pryor's Lab and archaeological sites provide opportunities to students to do fieldwork.
Office: Peters Building 254 | Lab: MCL 212
Phone: 559-278-5150
Email: johnp@mail.fresnostate.edu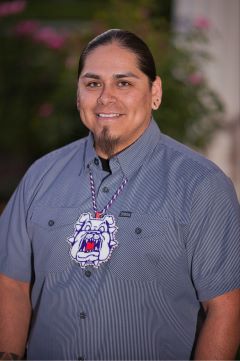 Areas of Research: American Indian Education, American Indian/Indigenous Pedagogies, and Tribal Curriculum.
Office: Social Sciences Building, 106
Phone: 559-278-6237
Email: davidalvarez@mail.fresnostate.edu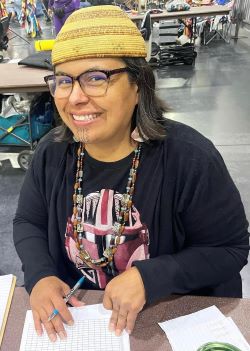 Areas of Research: Native California, Native American Graves Protection and Repatriation Act (NAGPRA), Cultural Revitalization, Chumash Material Culture, California History, Basketweaving.
Office: Social Sciences Building, 106
Phone: 559-278-6237
Email: mcristinagonzales@mail.fresnostate.edu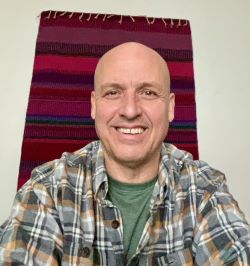 Areas of Research: American Indian Literature, Autobiography and Poetics, Intellectual History and Rhetoric.
Office: Social Sciences Building, 106
Phone: 559-278-6237
Email: michaelmcdaniel@csufresno.edu