Chicano and Latin American Studies
Los Danzantes de Aztlán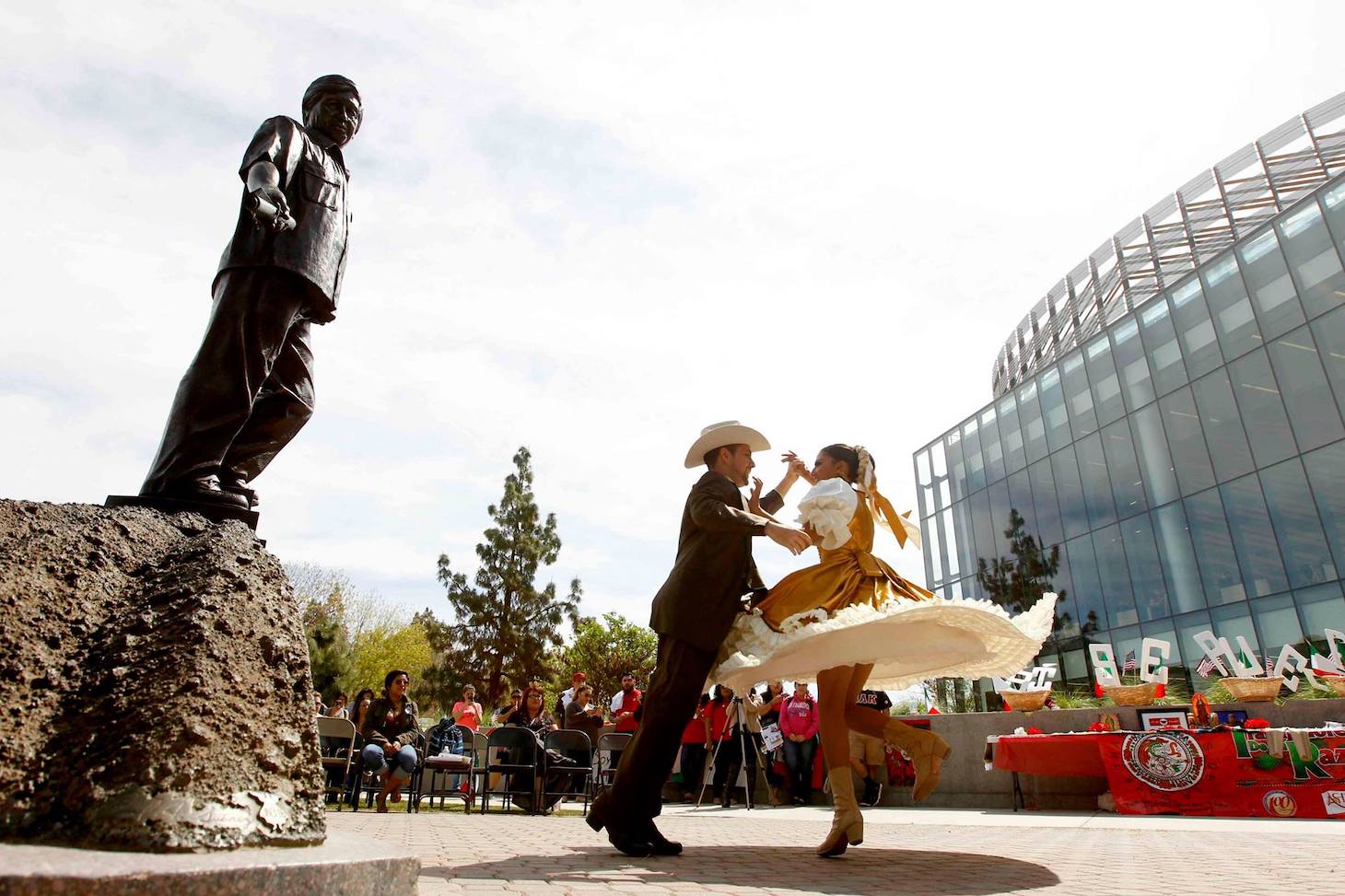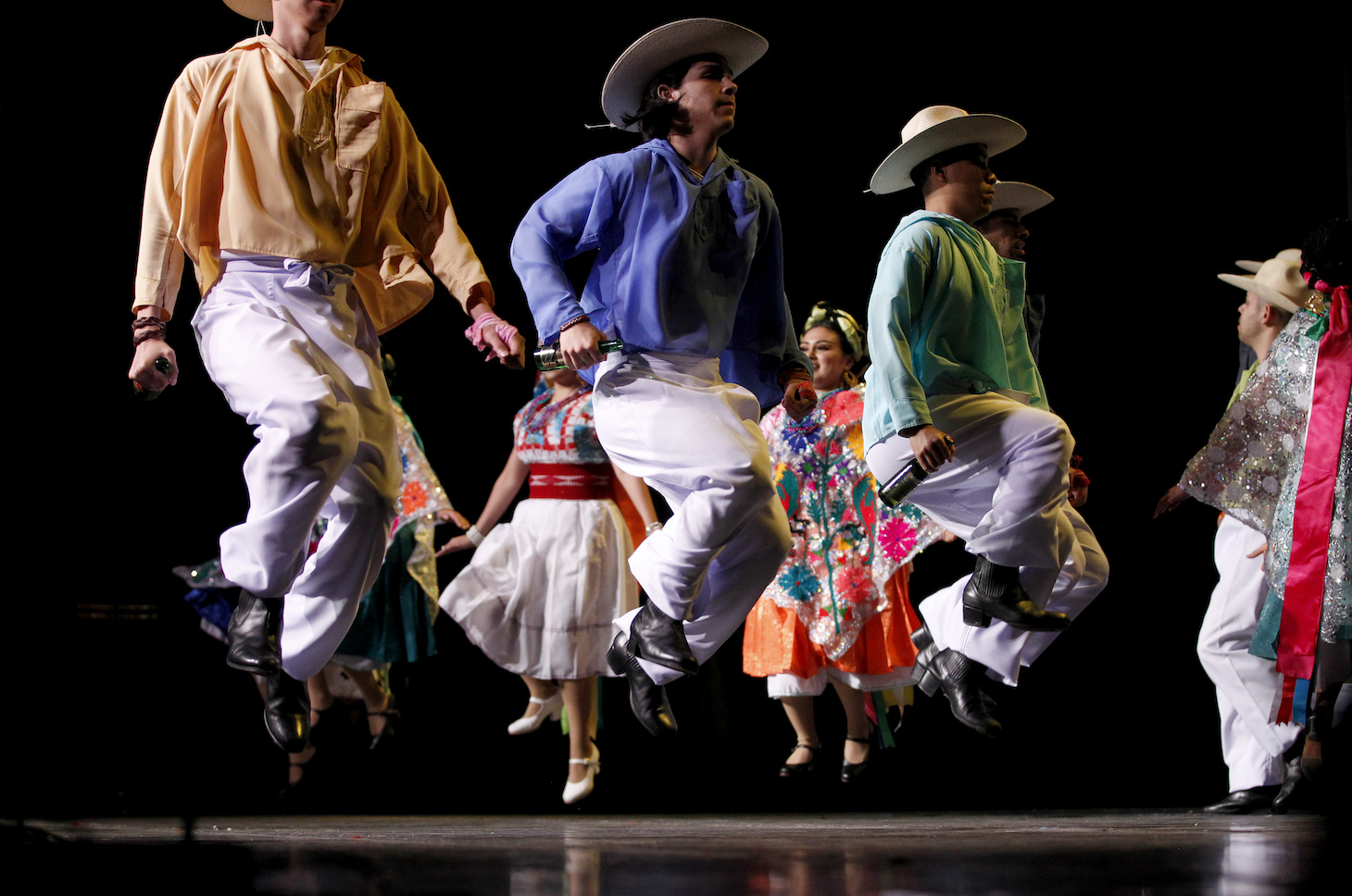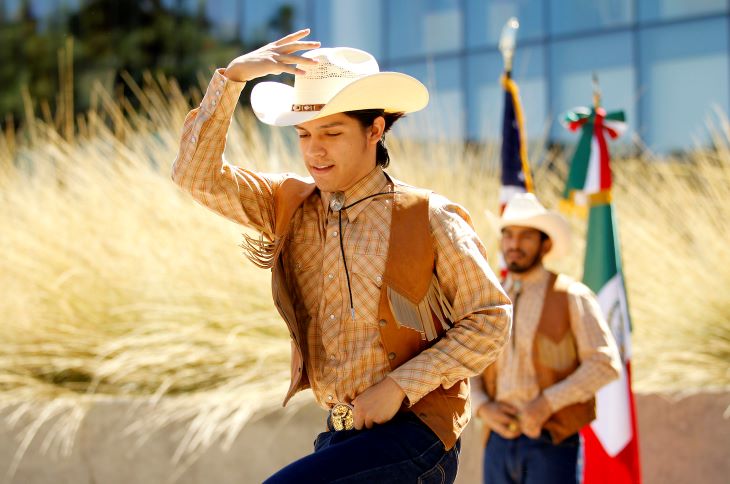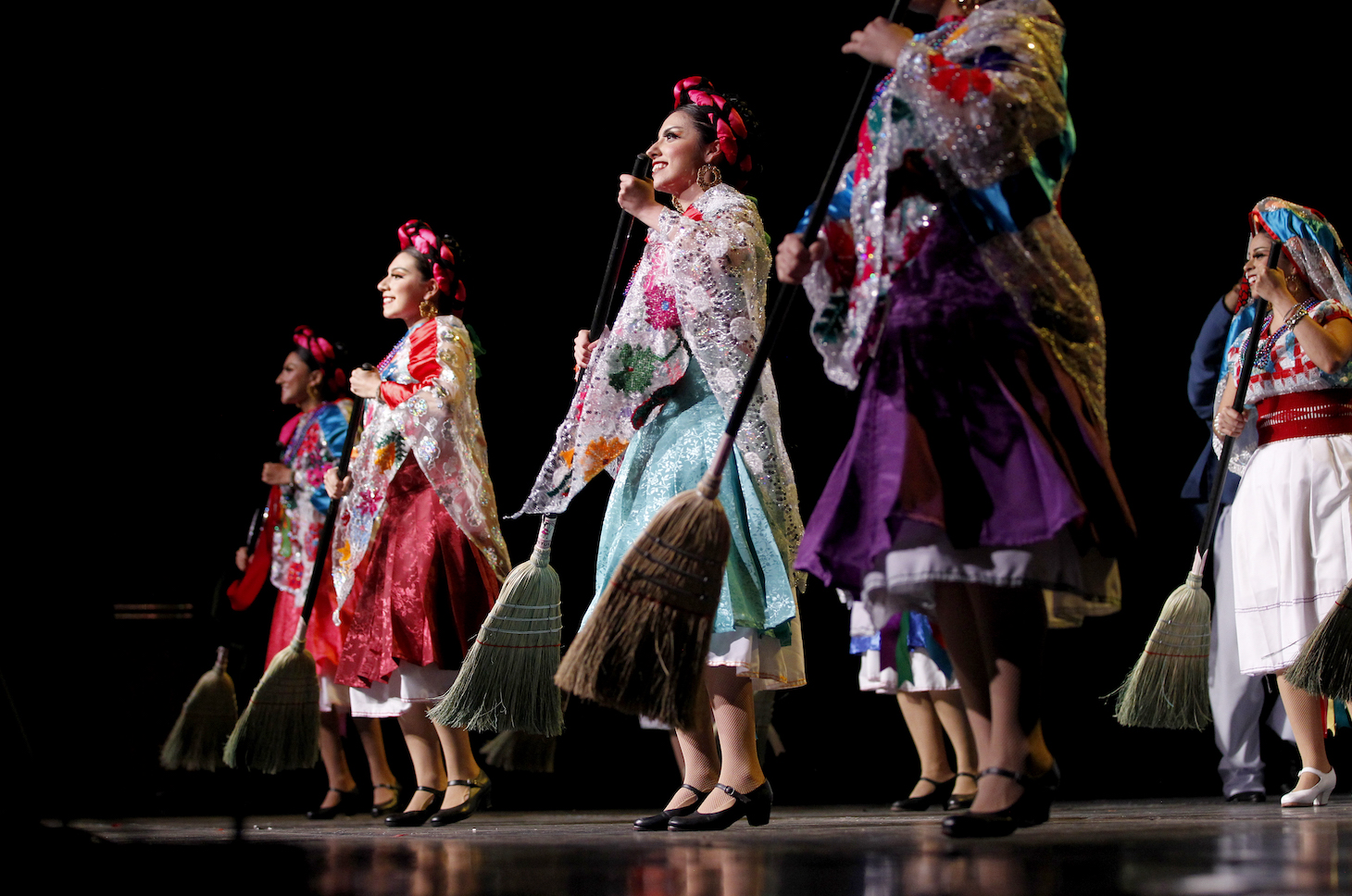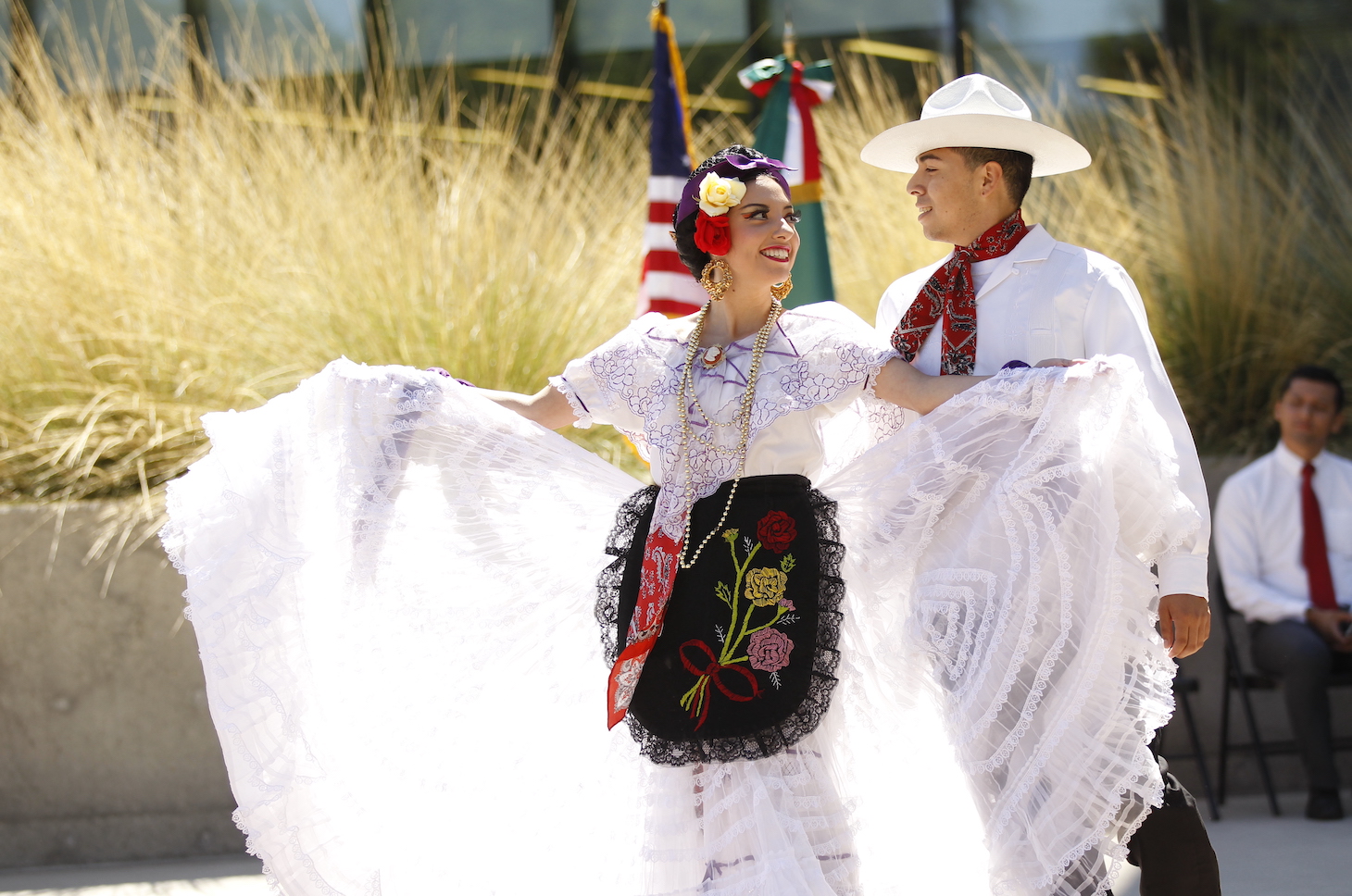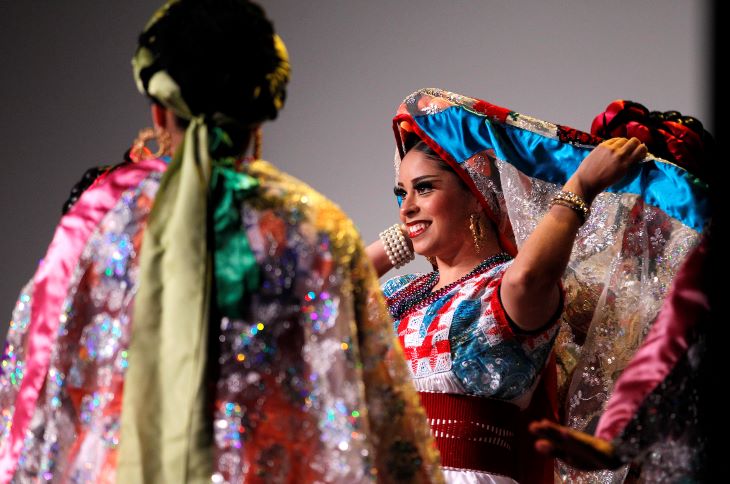 Los Danzantes de Aztlán is a unique undergraduate Mexican Dance program founded in 1970 by Prof. Ernesto Martinez – a pioneer in Mexican folklórico in the Central Valley. Utilizing beautiful, authentic costumes and precise dance execution, the vibrant Danzantes offer a spectacular and colorful expression of Mexican regional dances. The dance company has been a success with audiences wherever it has performed. Under the direction of Dr. Victor Torres since 1997, the troupe has consistently earned top awards in international folkloric dance competitions. Historically the company has performed in Spain, México, Texas, Nevada, and Washington. On three different occasions (2014, 2016, and 2018), the troupe performed in the nationally acclaimed San Francisco Ethnic Dance Festival- a unique distinction in the Central Valley.
As an academic program in Chicano and Latin American Studies, students can earn university credit for participating with Los Danzantes de Aztlán. The program plays an essential educational role in the Chicano/Latino community in terms of recruiting Latino students to the University and promoting cultural awareness and diversity at Fresno State. Under Dr. Torres' direction, Los Danzantes de Aztlán actively promotes higher education via dance by organizing several on-campus events that encourage and offer instruction in folkloric dancing and inspire participating high school students to pursue higher education. These events include the "CSU Folklórico Show," the "El Festival de Los Danzantes," the "High School Folklórico Summit," and the annual "Christmas in Mexico Show. Moreover, Los Danzantes de Aztlán is the only Mexican folkloric dance troupe in the CSU system to be designated as an official ambassador of the University.
Mission:
To promote, enlighten, and empower the Latinx community through cultural-related activities, such as cultural performances, teaching cultural dances, and organizing cultural festivals. Located in a region characterized by high poverty levels, unemployment, and low educational achievement, the Latinx community is one of the most marginalized groups in the Central Valley. Los Danzantes de Aztlán is committed to achieving racial equity and inclusion and to being a leader in cultural dance. By centering the needs of and recognizing the inherent value of this marginalized population, Los Danzantes de Aztlán strives to achieve economic and racial equity and inclusion by using dance to promote higher education, leading to transformative change in the Latinx community
Director: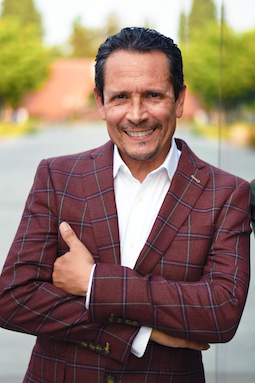 Dr. Victor Torres, Ph.D., is a Professor in the Department of Chicano and Latin American Studies at Fresno State. Under his direction, Los Danzantes de Aztlán has earned top awards in Binational (US-Mexico) and national competitions. The group has made three recent appearances in the prestigious San Francisco Ethnic Dance Festival. He is Vice-President and parliamentarian for the Asociación Nacional de Grupos Folklóricos (National Association of Folklóric Groups), serves as Secretary for World Arts West (a San Francisco-based non-profit organization that supports over 450 cultural artists), and serves on the Danzantes del Valle Advisory Committee for Arte Americas, Fresno's major Latinx cultural center. He was a featured guest for "Live Arts in Resistance," a virtual program that examined "racial inequity and white supremacy in popular culture," and was a panelist at the national Dance/USA conference discussing the topic of "Preserving, Building and Connecting: Addressing Social Justice Issues through Culturally Specific Dance." He recently participated in a panel discussion entitled "Our Dances Empower, Preserve and Connect Across Communities" during the National Association of Latino Arts and Cultures Latinx Summit.
Torres founded various folklórico-based programs that promote higher education, primarily to Central Valley low-income, rural, Latinx students. These programs include the Festival de Los Danzantes folklórico state-wide conference, the California State University Folklórico show, and the High School Folklórico Summit. Each of these events utilizes folklórico to motivate high school students to pursue higher education. Torres also serves in various leadership roles, including serving as Co-Vice-Chair of the President's Council for Equity, Diversity, and Inclusion and serves as Fresno State's Faculty Athletics Representative.
Torres also coordinates the university's Latinx graduation celebration (Chicano/Latino Commencement Celebration), which includes over 1,000 Latinx graduates and consistently draws close to 14,000 people. It is one of the largest graduation celebrations of its kind in the nation.
Throughout his career, Torres has strived to make a difference in students' lives. In his 25 year career at Fresno State, he has undoubtedly impacted countless students through the various programs he has founded or coordinated.