Women's, Gender and Sexuality Studies
LGBTQ2+ Minor
Mission
The LGBTQ2+ Studies Minor introduces students to the interdisciplinary field of Queer Studies that explore Lesbian, Gay, Bisexual, Transgender, Queer, Intersex, Asexual, and Two-Spirit communities in media, art, literature, activism, health, education, politics, and history both globally and domestically.
The LGBTQ2+ Minor is purposely designed to complement and support the majority of majors and minors at Fresno State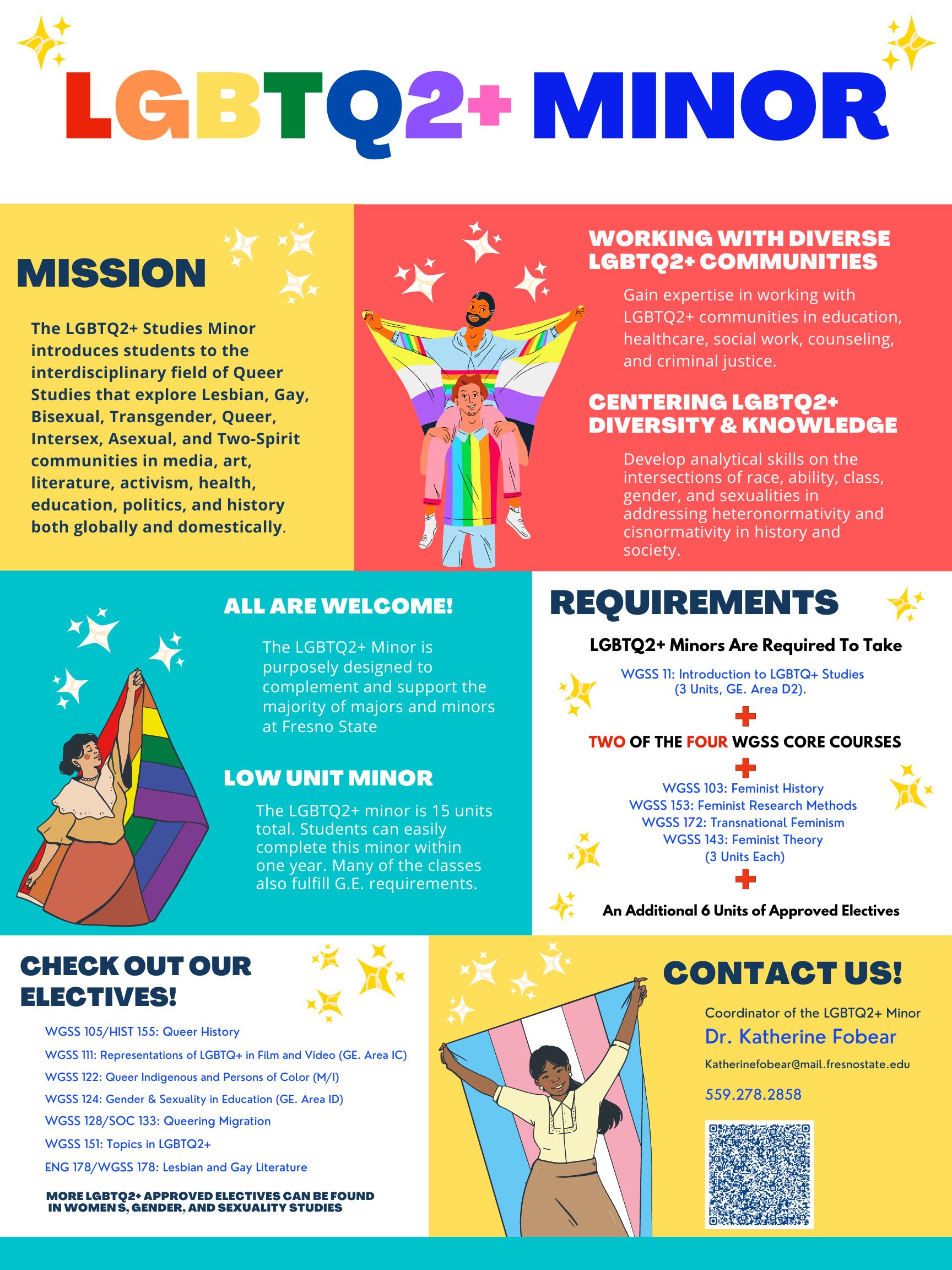 LGBTQ2+ Minors Are Required To Take
WGSS 11: Introduction to LGBTQ+ Studies (3 Units, GE. Area D2).
Two of The Four WGSS Core Courses:
WGSS 103: Feminist History
WGSS 153: Feminist Research Methods
WGSS 172: Transnational Feminism
WGSS 143: Feminist Theory
(3 Units Each)
An Additional 6 Units of Approved Electives

Electives
WGSS 105/HIST 155: Queer History
WGSS 111: Representations of LGBTQ+ in Film and Video (GE. Area IC)
WGSS 122: Queer Indigenous and Persons of Color (M/I)
WGSS 124: Gender & Sexuality in Education (GE. Area ID)
WGSS 128/SOC 133: Queering Migration
WGSS 151: Topics in LGBTQ2+
ENG 178/WGSS 178: Lesbian and Gay Literature
How to Enroll
Students interested in minoring in the LGBTQ2+ minor will need to schedule an academic advising meeting with Dr. Kat Fobear.