Women's, Gender and Sexuality Studies
News and Events
Our website is not always up to date with current news and events from our program. Please follow us on Twitter or Facebook for our latest updates!
Rainbow Wonderland Garden Party
Support the Department of Women's, Gender and Sexuality Studies LGBTQ2+ Studies Endowed Scholarship Fund!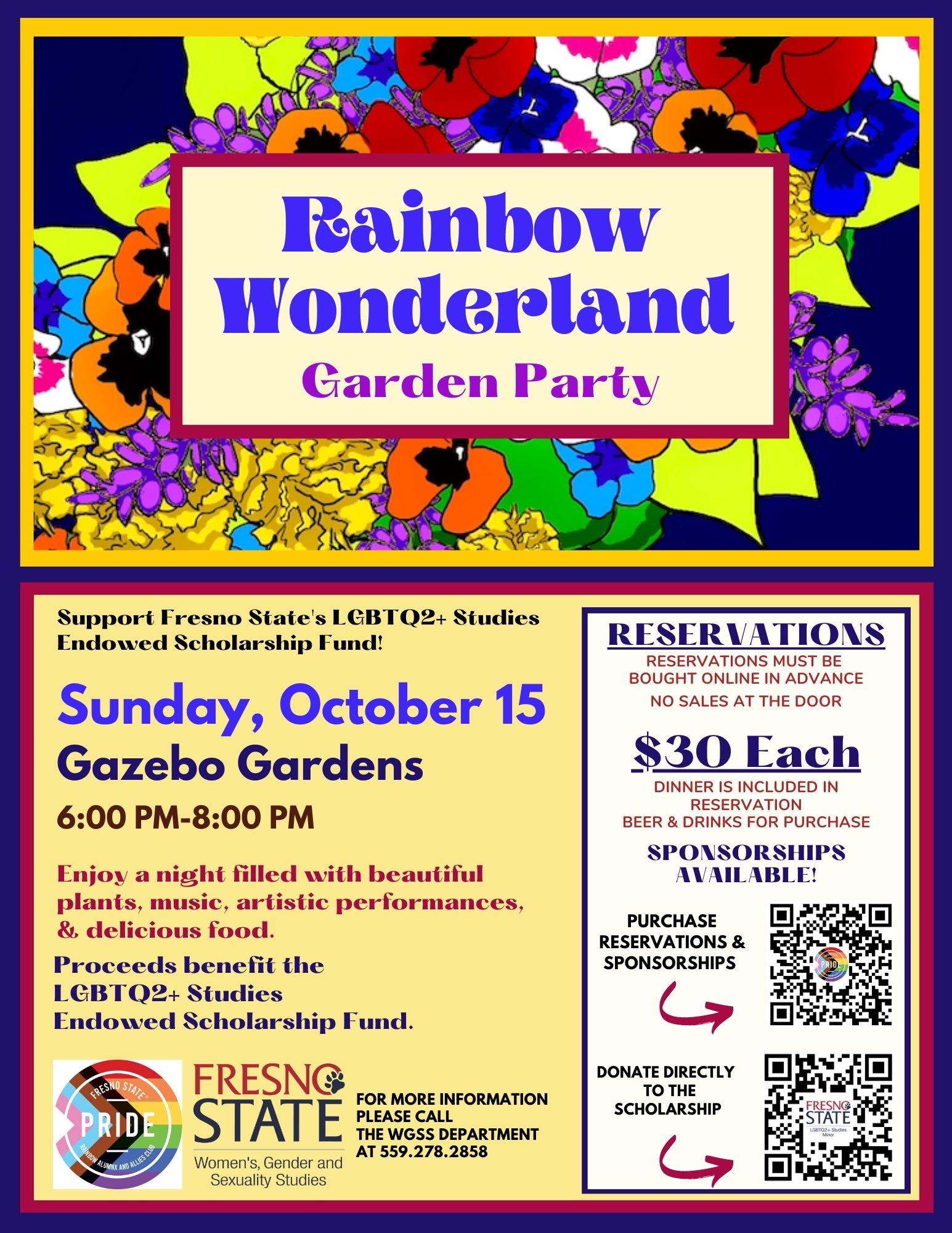 Sunday, October 14 Gazebo Gardens
Doors open at 6:00 PM
The show starts at 6:30 PM
Reservations are $30 each
Includes a meal from one of our delicious food trucks!
Enjoy a night filled with fantastic entertainment, beautiful plants, and delicious food!
All proceeds directly support the LGBTQ2+ Studies Endowed Scholarship Fund!
Let's raise community and funding to support our brilliant LGBTQ2+ Studies students at Fresno State.
Sponsorships Are Available!
For more information:
Please scan the QR code or follow this link
https://bit.ly/FSAA-eventspage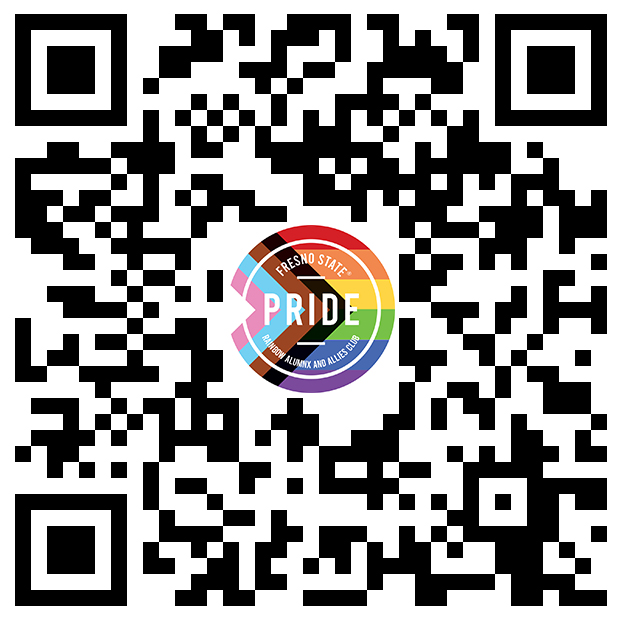 Please feel free to email Dr. Kat Fobear if you have any questions.
Email: katherinefobear@mail.fresnostate.edu
A Love Letter to Fresno's Queer West
Fresno State's new LGBTQ2+ Studies Minor is hosting a special event on Saturday, February 18, 2023, from 6 PM to 9 PM entitled "A Love Letter to Fresno's Queer West". The event will celebrate the local history of queer country western culture, bars, and drag performances. Proceeds will go to LGBTQ2+ Studies students and activities with one of the goals of establishing the first-ever LGBTQ2+ Studies scholarship at Fresno State. Reservations must be purchased in advance and can be purchased online: https://bit.ly/fresno-queer-west
*Thank you for all of your support! This event is now Sold Out!*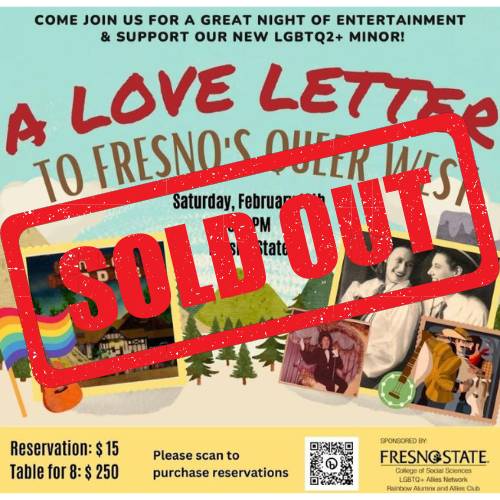 Gender Race and Sexuality Undergraduate Conference

In Spring 2019, eight of our Women's Studies majors organized the CSU's first-ever Gender Race and Sexuality Undergraduate conference. With over 60 undergraduate panelists and over 200 attendees, the conference was a success. Our organizers would like to thank everyone for their support!
Our program aims to organize the conference on a biannual basis.
Transgender Housing Report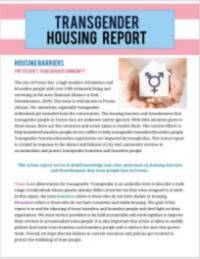 One in five transgender individuals will face homelessness in their lifetime. One in five transgender people have been discriminated against when seeking a home, and more than one in ten have been evicted from their homes, because of their gender identity. Transgender and gender-nonconforming persons make up a significant portion of the homelessness or houselessness population in Fresno. Yet, far too often, transgender voices and experiences are left out of public discourse and policy making.
Students in the WS 175s Feminist Activism class worked with Trans-E-Motion, a local transgender support, and advocacy organization, to document transgender experiences with homelessness and houselessness. Our Women's Studies students interviewed community members, support workers, and advocates. Three town halls were held with the public to identify main barriers and contributors to transgender homelessness. Students investigated housing policies and alternative housing models.
The findings from this work are now available in The Transgender Housing Report. The Transgender Housing Report is the first report of its kind in Fresno dedicated to transgender experiences around housing and homelessness. This report is an advocacy tool for Trans-E-Motion and homelessness service providers as a way to inform future policy initiatives and public discussions.
The College of Social Science also featured us in their blog!