Student Organizations
Get involved! The Department of Criminology has student organizations attached to the major.
Student organizations attend academic field trips and conferences that support their organization's mission and goals.
Phi Omega Alpha
Lambda Alpha Epsilon (Phi Omega Alpha chapter) is a unique Professional Co-Ed Criminology Fraternity.
Alpha Phi Sigma
Alpha Phi Sigma (The National Criminal Justice Honor's society) is the nationally recognized honor society for students in the field of Criminal Justice and Criminology.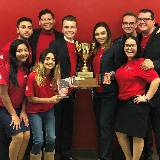 Mock Trial Team
Join the Mock Trial team! Mock Trial is an extracurricular program offered at colleges and universities across the country. Unlike most extracurricular programs, Mock Trial is also a three unit criminology course. Each trial simulates an actual jury trial. Our Mock Trial team represents Fresno State by competing in national tournaments throughout the school year.