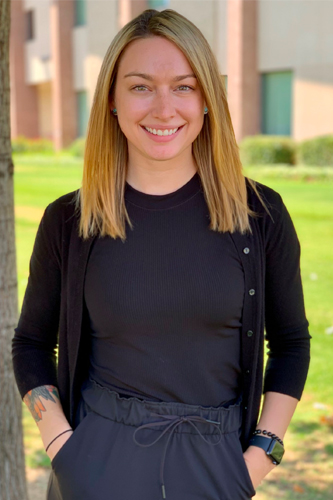 Katherine Kafonek, Ph.D.
Assistant Professor
Office: S2 135
Phone: 559.278.2814
Email: kafonek@csufresno.edu
Courses Taught
CRIM 174 Ethnic and Gender Issues in Criminal Justice
CRIM 175 Victimology
Biographical Sketch
Dr. Katherine (Kate) Kafonek is an Assistant Professor of Criminology at California State University, Fresno. She received her Ph.D. in Criminology at the University of Delaware, where she taught Introduction to Criminal Justice. Prior to starting at Fresno State, Dr. Kafonek was a lead research assistant at the Center for the Study & Prevention of Gender-Based Violence at the University of Delaware. She also received her M.S. in Criminal Justice from the University of Baltimore and B.S. in Crime, Law, and Justice from Pennsylvania State University.
Dr. Kafonek's research interests lie at the intersection of gender, crime, and victimization. Her recent research specifically examines the role of escalation in intimate partner homicide, sexual assault education and prevention at the K-12 and college levels, and intimate partner violence help-seeking and resilience.
Education
Ph.D., Criminology, University of Delaware, Newark DE
M.S., Criminal Justice, University of Baltimore, Baltimore, MD
B.S., Law, Crime, & Justice, Pennsylvania State University, University Park, PA
Recent Publications
Kafonek, K., Gray, A., & Parker, K. (In press). Understanding escalation through intimate partner violence narratives. Violence Against Women.

Brewer-Smyth, K., Koenig, H. G., Kafonek, K., Adams, T., Raine, A., & Grander, D. (2021). Post-traumatic bio-behavioral rehabilitation of adult female victims. Delaware Journal of Public Health, 7(4), 160-166.
Richards, T. N., Holland, K., Kafonek, K., & Navarro, J. (2021). Sex-Based Harassment in the United States' K-12 Schools: Rates and Predictors of Allegations, Student Reporting, and Student Discipline. Journal of School Violence.
Miller, S. L., Iovanni, L., & Kafonek, K. (2020). Agency and paternalism: Balancing acts between a domestic violence survivors' task force and a state coalition. Violence Against Women.
Brewer-Smyth, K., Kafonek, K., and Koenig, H. G. (2020). A Pilot Study on Sleep Quality, Forgiveness, Religion, Spirituality and General Health of Women Living in a Homeless Mission. Holistic Nursing Practice, 34(1), 49-56.
Richards, T.N., Gillespie, L. K., Kafonek, K., & Johnson, M. (2019). An examination of the Lethality Assessment Program (LAP): Perspectives on implementation, helpseeking, and victim empowerment. Violence Against Women, 26(12-13), 1517-1537.
Richards T.N., Branch, K.A., Fleury-Steiner, R., & Kafonek, K. (2017). A feminist analysis of campus sexual assault policies: Results from a national sample. Family Relations, 66(1), 104-115.
*Top 10 downloaded papers in Family Relations in 2017 (1167 downloads in 12-months post publication)
Manuscripts in Progress
Gray, A., Kafonek, K., & Parker, K. F. (In process). "Intersections and intimate partner homicides: A macro-level analysis of firearm and intimate partner violence-related policies."
Hattery, A., Smith, E., Magnuson, S., Monterrosa, A., Kafonek, K., Shaw, C., & Davidson Mhonde, R. (Under review). "Diversity in research teams: The good, the bad and the ugly."

Hattery, A., Kafonek, K., Monterrosa, A., Porter, E. F., & Smith, E. (Under review). "Theories of family violence: Implications for prevention and treatment." In P. Sturmey (Ed.), Violence in families: Integrating research into practice.