Master of Science (MS) in Criminology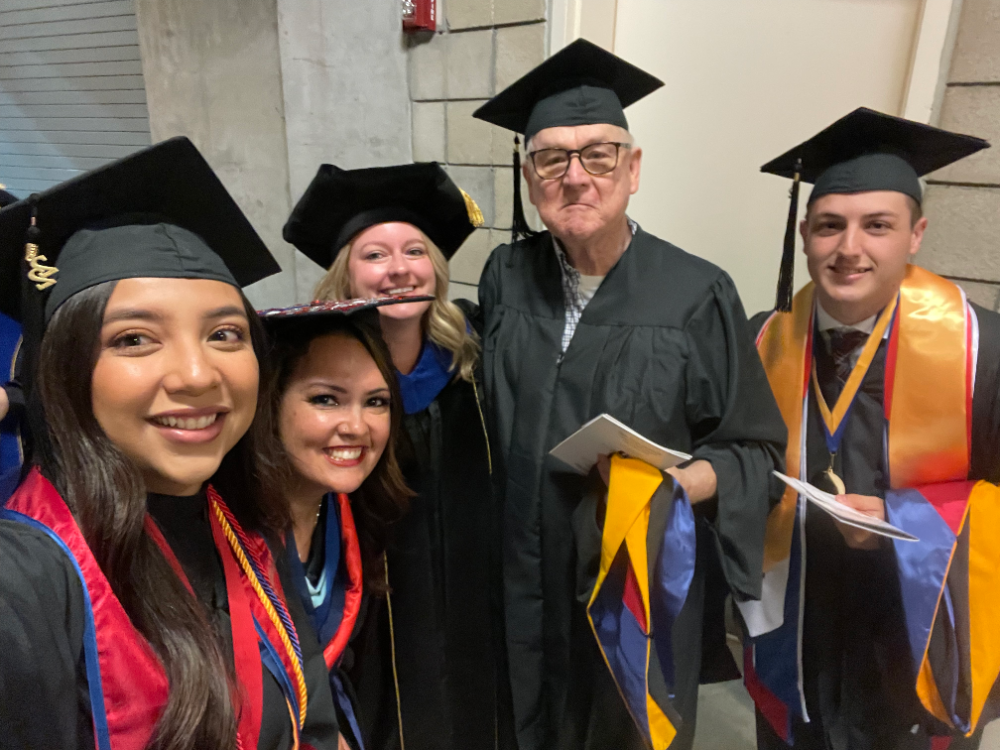 The Department of Criminology at Fresno State is proud to welcome new graduate students to our program every fall. Prospective students are encouraged to review the content below to learn more about our graduate program, including:
Degree requirements
Course offerings
Time-to-degree completion
Research opportunities
Funding resources
For information about our application requirements and submission deadline, please visit our program's admission page.
Have additional questions about our graduate program? Please contact the graduate coordinator, Dr. Jordan Pickering.
Have additional questions about graduate program requirements at Fresno State? Please visit the Division of Research and Graduate Studies (DRGS):
Graduate Course Descriptions
Students admitted to our graduate program are required to complete 30 units of graduate course work. Below are the catalog descriptions of each of our five required graduate courses, as well as the descriptions of recent graduate electives offered by our department, and the semester in which they are (or have been) offered:
Required Graduate Courses
CRIM 200 (Research Methods in Criminology): Methods and techniques of research in criminology; research designs and models; preparation and critique of a research paper. This required course is offered every FALL semester.


CRIM 201 (Advanced Criminological Theory): A historical approach to the study of criminological theory. Special treatment of the theoretical underpinnings of contemporary theoretical thought. Detailed analysis of major 18th, 19th, and early 21st century criminological thought. This required course is offered every FALL semester.


CRIM 202 (Law and the Criminal Justice System): The nature and philosophy of law; the common law tradition and our judicial system; the role of legislation and rules of statutory interpretation; Constitutional Law concepts and their applications in the Criminal Justice System and our society. This required course is offered every SPRING semester.


CRIM 203 (Criminal Justice Systems): A comprehensive assessment of the historical evolution of the criminal justice system, including current status and future growth, theory and rationale for the various systems, and common practices relating to each system. This required course is offered every FALL semester.


CRIM 204 (Quantitative Methods and Analysis): Methods for analysis of multivariate data, including multiple regression, logistic regression, and factor analysis. Computer statistical packages, applications, and analysis of data. This required course is offered every SPRING semester.
Recently Offered Elective Courses
CRIM 265 (Sex Crimes): Sex offenders are explored from epidemiological, psychological and etiological underpinnings and constraints as they relate to power, sex, gender and psychopathology. Attention given to the role of paraphilia and the vast array of sexual predators, lust killers, paraphilic stalkers and the mentally disordered sex offender. Offered in Spring 2023.


CRIM 275 (Victimology & Social Change): Theories and scientific research on the effects of crime on victims. An analysis of victim rights and services with specific review agencies and programs of community change. Models and strategies of understanding and assisting crime victims will be analyzed. Will be offered in Spring 2024.


CRIM 295 (Controversial Issues in Crime, Criminology, & Law): An inclusive overview of controversial issues in criminology and law with an emphasis upon critical thinking, organization, decision-making and writing skills. An apogean experience involving the integration of graduate-level scholarly knowledge related to the study of criminology. Offered in Fall 2023.
The Culminating Experience
All graduate students at Fresno State are required to complete a culminating experience in order to earn a graduate degree. Prospective and current students can find more information about this graduate degree requirement from the Division of Research and Graduate Studies (DRGS):
DRGS Culminating Experience Requirement
The Department of Criminology offers students three culminating experience options from which to choose. Each of the three options are listed below, along with a brief explanation of what each option entails.
The comprehensive exam is a written exam completed over a two-day period. Students who choose this culminating experience will provide essay responses to a series of writing prompts, all of which correspond with each of the required courses for the degree and this culminating experience option (e.g., research methods/stats (CRIM 200 and 204), theory (CRIM 201), law (CRIM 202), administration (CRIM 203), and foundations (CRIM 295). This is a closed note, closed book exam and it is proctored in one of the university's computer labs over a weekend each semester.
Students' responses are then scored by multiple faculty members through a double-blind grading process. Students must pass all five sections of the exam in order to complete this culminating experience option. The comprehensive examination may only be taken twice. Therefore, students must take the time to prepare for the exam. It is suggested that students spend at least six months preparing for the comprehensive exam.
A project is designed to include the rigor of a thesis, but also grants a measure of flexibility on research methodologies, design, and structural organization for research items often found in Criminology and Forensic Behavioral Sciences subjects of inquiry. Examples of topics that may be appropriate for a graduate project include but are not limited to: program evaluations (where publishing constraints are placed on the student by the agency/agencies involved), curriculum development, and training program modules/videos to support criminal justice agencies and community organizations. A project often has direct and clear practical implications to improve services in the field.
Students who select the project as their culminating experience will need to find a faculty member in the Department of Criminology to serve as their project supervisor. In addition, they will also need to find two additional faculty members to serve as project committee members. Students will work with their project committee to ensure that the proposed project idea is in line with what constitutes a project (as opposed to a graduate thesis) and should not proceed with the project until approval is received by all three faculty members of their committee. Similar to the other culminating experience options, the final product produced in fulfillment of the project requirements needs to be the result of independent work completed by the student.
There should be a structured written format to the project that may mirror that of the thesis (e.g., introduction, literature review, presentation of findings and/or deliverables, discussion, etc.) and this will be decided and agreed upon by the student and the project committee members. The timeline for completing the project will be developed by graduate students in close collaboration and consultation with their project committee members. Lastly, students who select the project will be required to complete an oral defense of their project.
The thesis is a comprehensive, structured document resulting from original student research. The thesis relates to an existing body of theoretical or empirical knowledge in the field and investigates specific, well-defined questions or issues, and tests hypotheses. In their thesis, students will clearly identify the problem, state the major assumptions, explain the significance of their empirical study, set forth the sources for and methods of gathering information, analyze the data, and offer conclusions or recommendations for academics and practitioners in criminology, criminal justice, or related fields.
The finished product must display originality, critical and independent thinking, appropriate organization and format, clarity of purpose, and accurate and thorough documentation. Critical and independent thinking should characterize every project. Mere description, cataloging, compilation, and other superficial procedures are not adequate. Normally, an oral defense of the thesis will be required.
The graduate thesis is a published academic document that will be bound and shelved in the Fresno State Library and made available electronically through University Microfilms International. As such, it must be reviewed at the university level (the thesis office in the Division of Research and Graduate Studies) before clearance.
For more information about the thesis option, including the thesis process and the requirements of a thesis set forth by the university and relevant deadlines for submission, please visit the thesis information page from the Division of Research and Graduate Studies below:
The Process of Completing a Graduate Thesis
Thesis Policies and Procedures