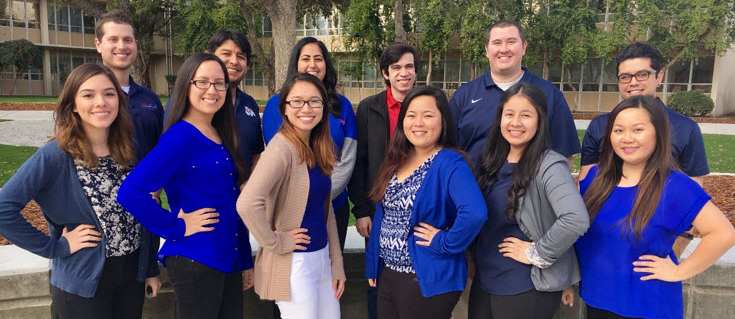 Academic Advising
The Department of Sociology encourages all students to seek advising for guidance in planning their academic schedules. We recommend that all students schedule at least 1 advising appointment per semester to ensure being on track towards graduation. Advising is broken down into academic advising through the COSS Advising Center and career advising through faculty in the department.
For All Your Academic Advising Needs:
Advising on majors, minors, and certificates within the COSS
Academic Plans
Class Registration Assistance
General Education Requirements
Degree Requirements/Grad Checks
How to read your Degree Progress Report (DPR)
Clearing Registration Holds
Change of Major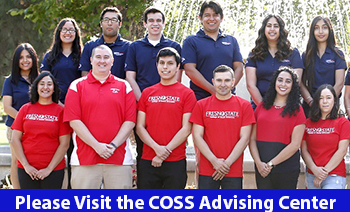 This amazing group of individuals will work with and help you navigate your academic trajectory in Sociology at Fresno State.
Location: McKee Fisk Room 207
Hours
Mon/Tues/Thurs 8:00am-7:00pm (Appointments Only)
Wednesdays 9:00am-11:00am & 1:30pm-4:00pm (WALK-INs Only)
Fridays 8:00am-5:00pm (Appointments Only)
Current & Returning Students
For questions: Call (559) 278-3422 or email ssadvising@csufresno.edu.
You can schedule an appointment at the number above or online.
New & Future Students
If you have been formally admitted for an upcoming semester, you will need to attend DOG DAYS: New Student Orientation before meeting with an advisor. After attending Dog Days, you are welcome to schedule an appointment.
If you have never attended Fresno State and have not been formally admitted to the university, please contact University Outreach Services.
Degree Progress Report (DPR)
The DPR is an outline of the various courses you will need in order to graduate in your major, including General Education (GE) requirements, and tracks your progress towards this goal. Resources for how to run your DPR.
Departmental Advising
Faculty in the department are committed to meeting with students to assist them in navigating career and life plans, from jobs, to gap year programs, to graduate school.
Faculty advisors are assigned based on the student's last name, see list below.
*Students may choose from among any of the faculty listed above.