Spring 2021 Outstanding Graduates
Dean's Medalist nominee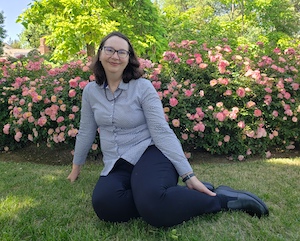 Stephanie Butler Sorsky
I am deeply honored to be nominated by the Sociology Department as a Dean's Medalist. My time in the department has opened my eyes to better understand the world, and made me consciously examine the social forces influencing my actions. The current situation with the pandemic has made this an exciting time to study sociology. Mentoring I have received from my professors inspired me to dream of future paths, and given me confidence in my own abilities and strengths. Volunteer work I did at my children's schools that preceded my enrollment here, continues, and has been supplemented by work to alleviate hunger in the neighborhoods surrounding Fresno State's campus. I was also involved in giving back by helping the campus chapter of Camp Kesem raise funds to send children affected by their parent's cancer to camp. My plans for the future are to work in the community and eventually apply to graduate school to become a college counselor.
Outstanding Humanics Student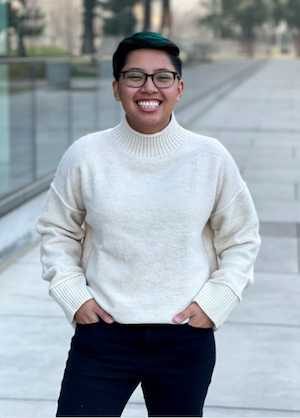 Eliza Jane Palao
"In my last two years as a Fresno State transfer student, I have found my passion for serving the community. The Sociology Department and Humanics Program have provided me with a space to develop both personally and professionally. Even during a pandemic, I have been able to gain leadership experience and connect with scholars and students that have made my experience invaluable. I have felt so much support from the Sociology department, and I would be remiss if I did not mention some of the professors who have acted as mentors, friends, and allies in times of need. Thank you to Dr. Matthew A. Jendian for opening my eyes to race/ethnicity and reminding me to love my culture. To Dr. Don Simmons, thanks for connecting me to CBOs near and far. To Dr. Christopher Sullivan, thanks for a good laugh, and thanks to Dr. Andrew R. Jones for providing a safe space to rant. Dr. Jennifer Randles I thank for showing me empathy, and Dr. Amber Crowell I thank for being a role model for women. Finally, thank you to all the students who made these two years at Fresno State so memorable. Without all of you I would not have found my path and gotten a degree in Sociology and a minor in Philanthropic and Community Based Leadership. I hope to continue the great work of environmental CBOs in the Valley. Because of all the amazing people in my life, my journey has just begun."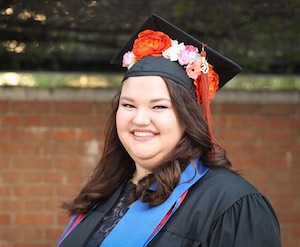 Emily Bauer
I am so thankful for my time at Fresno State and the educational learning opportunities it provided. During my time in the Sociology Department and Humanics Program I had the opportunity to gain hands on experience tackling real world issues and problems. In the midst of the COVID-19 Pandemic I was provided the opportunity to serve as a CoBoard Chair for the Humanics@Fresno State Students4Giving and intern at United Way Fresno and Madera Counties. Both of these experiences provided me the opportunity to practice Responsive Philanthropy in times of crisis and provide relief funding to local CBOs and individuals affected by the pandemic. Upon conclusion of my internship, I was offered a position at United Way to continue Disaster Response work through the Listos California Campaign. I plan to attend graduate school to study Emergency Management and continue educating vulnerable and hard to reach populations with disaster preparedness information and other community resources. I would like to personally thank Dr. Simmons and Dr. Jendian for all of their dedication to educating and inspiring strong community leaders.
Outstanding Sociology Students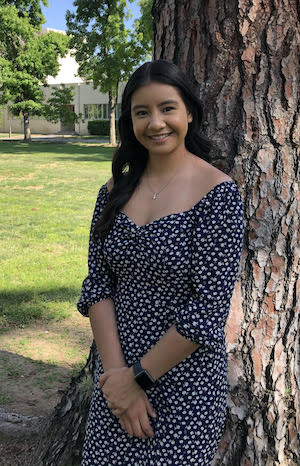 Elexis Cuen
As a first-generation student and the first in my family to graduate from a four-year university, I am honored to be recognized as one of the department's Outstanding Sociology Students. My time at Fresno State has been spent volunteering with the Jan and Bud Richter Center, Habitat for Humanity, Homecoming Committee, and COSS Linked. Each experience has taught me the importance of student leadership and service through my positions as a volunteer, committee member, and student assistant. My time as a Dog Days Orientation Leader has also impacted me very much. Although orientation was held virtually this year, it was amazing to see how many students were committed to their futures at Fresno State. As a graduating senior, my heart goes out to everyone beginning their journey in higher education. To my sociology professors, thank you for teaching me the importance of critical thinking and application. You are teaching the next generation of students and workers to lead with passion and logic, an often daunting task to take on in an intimidating world. The sociology department and College of Social Sciences have given me the confidence to take my teachings with me wherever I go, and I intend on sharing that assurance with people I meet in my future career."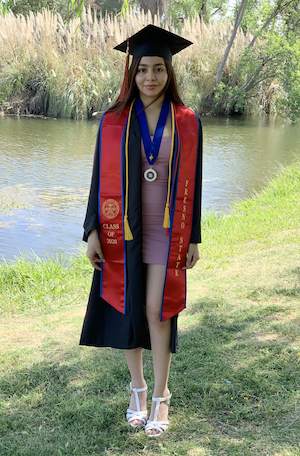 Andrea Soto
First, I would like to express how I am extremely thankful for the opportunities and constant encouragement I received from the Fresno State Sociology Department. The moment I received my acceptance letter from Fresno State I knew my future would be filled with greatness and success. Like many other Hispanic students here at Fresno State, I am the first female in my family to graduate from a four-year university. My accomplishments wouldn't have been possible without my grandparents and my mother's sacrifices since they settled in the United States from Mexico in hopes of living a better life. I witnessed how hard they worked to make sure that I had the chance to obtain a higher education. Fortunately, I am now a product of their American dream. During my time here, I consistently remained on the President's List, received an invitation to the Honor's Society known as Phi Kappa Phi, graduated with a 4.0 GPA, and was presented with the highest honors known as Summa Cum Laude. Following graduation, I plan on applying to the Social Works graduate program so that I can help children and families in need.