Political Science News
Congratulations to political science students Tanner Morgan, Dam Smith, Hisham Qutob (Busines major), and Nick Matoian who qualified for national moot court compeition in Baton Rouge, Louisiana in 2020.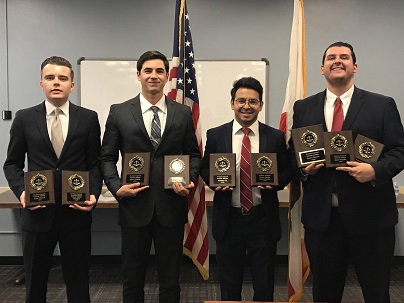 Congratulations to Shelby Elia for being the 2019 Graduate Dean's Medalist for the College of Social Science, and to Ana Dominguez for being the Department's Oustanding Undergraduate Student!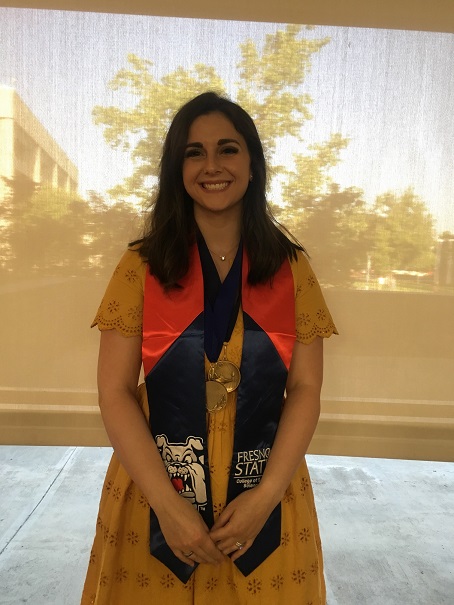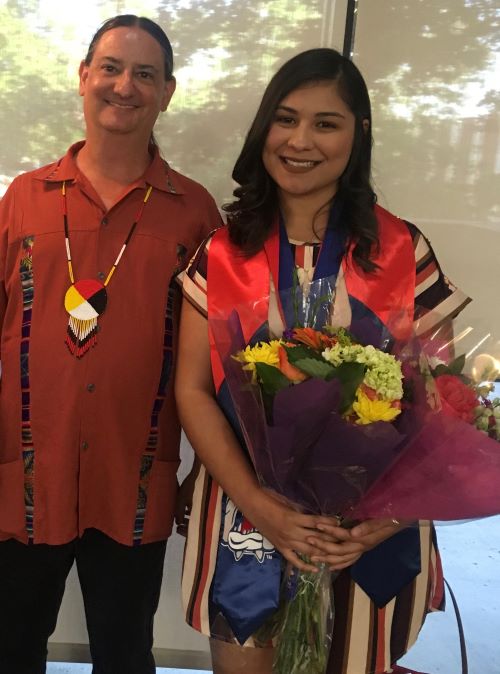 Congratulations to our 2018 award winning, graduating students Travis Childress and Blake Zante!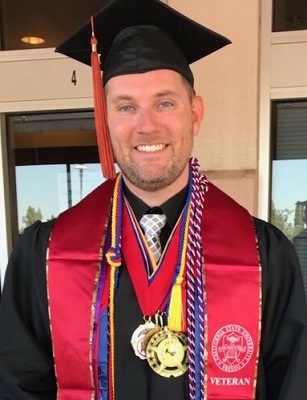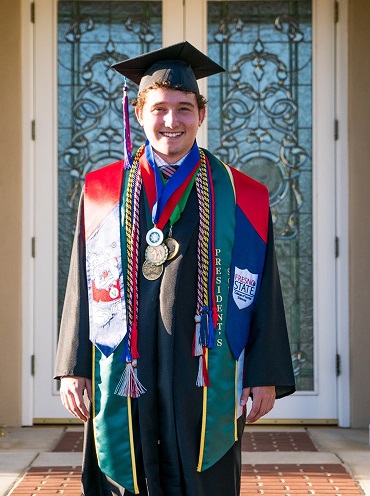 Congratulations Alexandra Gallo, President's Medalist, and Timothy Ryan, Dean's Medalist for Student Affairs, and ALL of our 2017 graduates!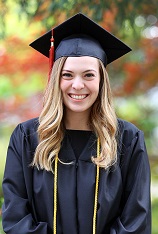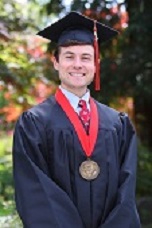 2017 President's Medalist, College of Social Sciences Undergraduate Dean's Medalist and Department of Political Science Outstanding Graduate
Alexandra Gallo of Hollister, was awarded the top University honors at Fresno State. She was chosen from a group of nine Dean's Undergraduate medalists graduated Magna Cum Laude with degrees in Political Science and Communication. She has served at the Ronald McDonald House and has helped facilitate after school activities for youth in Southeast Fresno. Alexandra has exercised her passion for service and civic engagement with her involvement as President of the League of Women Voters Student Unit and service as Senator of Undergraduate and Graduate Affairs for Associated Students, Incorporated. Alexandra has held leadership positions in the Panhellenic Council and in Delta Zeta. As a Ronald E. McNair Scholar, she conducted research of voter identification laws and presented her research at the Southwestern Social Science Association Conference. As a Maddy Institute Legislative Scholar, Alex interned under Congressman Jim Costa who she will continue to intern for in the summer 2017 and will then represent Fresno State as a student ambassador on a tour of China. Alexandra hopes to pursue a career in government.
Megi Hakobjanyan is selected to be the dean's medalist for the College of Social Sciences for 2015!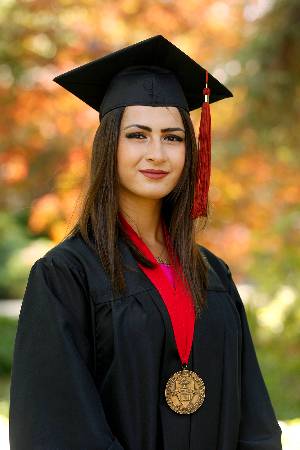 We are thrilled to announce that political science major Megi Hakobjanyan is the dean's medalist for the College of Social Science, as well as being the department's outstanding graduate for 2015! Born and raised in Armenia, Megi is going to pursue a masters degree in international relations at The Johns Hopkins University, starting at their campus in Bologna, Italy. Congratulations!
Abigail Hudson elected ASI president
The department is thrilled that political science major Abigail Hudson has just been elected ASI president, succeeding Moses Menchaca who is also a political science major. For more information, click here.
Gavin Baird Wins Marshall Scholarship
Political science major Gavin Baird is the first Fresno State student ever to win the prestigious Marshall Scholarship to attend the London School of Economics and Political Science in pursuit of a graduate degree. Only four other CSU students have ever received this scholarship, and other winners this year include students from Harvard and Yale Universities. For more information click here.
Department sponsors Constitution Day at Fresno State on September 17! Click here for more details.
Congratulations to Jenna Mersereau, the department's outstanding graduate for 2014!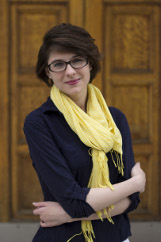 Congratulations also to Maria Ortega Reyes for being selected as dean's medalist for 2014 (political science and sociology double major, representing the sociology department)!
Congratulations also to Sean Kiernan for being selected as dean's medalist for 2014 by the university's Division of Student Affairs!
Congratulations to the political science majors in the inaugural honors program in the College of Social Science: Anne Badasci, Jessica Boujikian, Simren Gil, Brent Hanson, Stephanie Lopez, and Jenna Mersereau!
And a big congratulations to all graduating political science majors in 2014. Well done!
Congratulations to political science major Stephanie Lopez for winning the prestigious Gates Cambridge Scholarship to attend Cambridge University. Read more about it here.
Congratulations to Professor Gina Wallace and the Fresno State Moot Court team for sending two teams to the national competition. Read more about it here.
Congratulations to all political science majors graduating with the class of 2013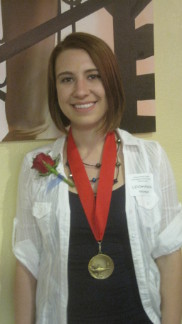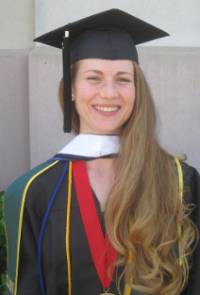 The Department of Political Science is proud to announce that Megan Rose Bailey (on the right), a graduate student in international relations is the dean's medalist for the College of Social Science. Next semester she will begin her Ph.D. work at Harvard University's School of Public Policy with a three year fellowship from the National Science Foundation.
We are also proud to announce that Leighanna Mixter (on the left) is our outstanding undergraduate major this year.
Political science majors Moses Menchaca and Sean Kiernan have been elected president and vice president for external affairs respectively for Associated Students, Inc. for academic year 2013-2014. For more information, click here.
Congratulations to students Anthony Guzman and Sean Kiernan and professor Gina Wallace for placing 14th in the American Collegiate Moot Court Association's national competition. Click here to learn more.
Reflections from Fresno State Political Science Students Who Worked on the Presidential Campaigns.
Political science majors at Fresno State University are frequently involved in all kinds of political campaigns up and down the Central Valley, but in 2012 we had students and recent graduates employed by both the Obama-Biden Campaign and the Romney-Ryan Campaign. One from each campaign reflects on their incredible experiences in presidential politics:
"Being part of the Romney/Ryan Advance Team meant that we had to get everything prepared and situated for the upcoming events, as we managed the daily operational plans for the campaign. From locating venue sites, to doing walk-throughs with the Secret Service, to planning the minute-by-minute movements of the candidates, the Advance Team did it all. I am beyond blessed to have been given the opportunity to work on the campaign and travel the country as part of the Romney/Ryan team. It was an incredible experience and is something I will treasure for the rest of my life." -- Caitlin Ryan, senior political science major.
"I joined the Obama campaign in January 2012 as the Regional Field Director for El Paso, Teller and Park counties. I managed a staff of 18 Field Organizers, 5 Early Vote Organizers, 4 Deputy Field Organizers and dozens of interns. Specific duties included: Training and on-boarding new staff, implementing a comprehensive field strategy customized to fit the region, guiding staff in meeting specific benchmarks and metrics, creating detailed systems to track implementation of separate field objectives and fostering a competitive workplace culture coupled with accountability." -- Justin Steele, alum (class of 2012) now working for the Presidential Inaugural Committee.
Political Science Department sponsors Constitution Day panel on Monday, September 17.
The Constitution Day panel sponsored by the Department of Political Science this year is titled "Does President Obama Deserve a Second Term?" It will be held on Monday, September 17, in the university's Satellite Student Union at 11:00am. Click here for more details.
Department News
Another new book from political science faculty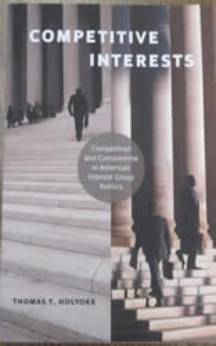 Dr. Thomas Holyoke's new book, Competitive Interests, was published in the fall of 2011 by Georgetown University Press. Written over a period of seven years and based on 83 interviews with interest group lobbyists in Washington, D.C., Dr. Holyoke's book takes a new look at interest group politics. Not only do interest groups and their lobbyists seek to influence public policy, they seek to influence each other, and when they fail to it leads to political conflict which can have an important influence on how, and even if, public policy is made.
Political Science Department sponsors campus Constitution Day panel.
Tuesday, September 20, is the day Fresno State observes the signing of the American Constitution in 1787. This year the political science department is sponsoring a panel on the Constitution, the nation's debt, and the political debt crisis. The panel will be moderated by Dr. Jeff Cummins and the panel will include Dr. Thomas Holyoke along with Drs. Antonio Avalos and David Vera from the economics department. It will be in the Satellite Student Union from 11:00am to 12:30pm.
Special Honors for Political Science Students
We are thrilled to announce that two of our graduating students have won major university awards this year for their academic achievements. Tracey Chow of Easton, California, is the undergraduate dean's medalist for the College of Social Science and is getting her bachelors degree in political science. Palingwinde Yves Ouedraogo from Burkina Faso, who is getting his masters degree in international relations, is the graduate medalist for the Division of Student Affairs.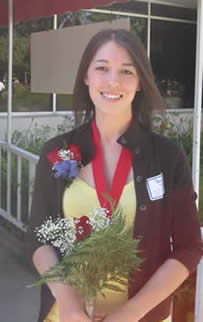 .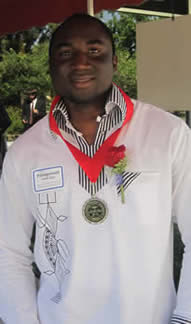 Faculty Members Receive University Awards
Two members of our faculty have won major awards from the university provost this year. Dr. David Schecter has won the University Service award and Dr. Melanie Ram has won the Most Promising New Faculty Award. Congratulations!
New Book on Indian Casino Gaming Published
Dr. Kenneth Hansen's new edited book, The New Politics of Indian Gaming, has just been released by the University of Nevada Press. The book contains two chapters written by Dr. Hansen along with his co-editor, Dr. Tracy Skopek of the University of Wyoming, as well as chapters written by Dr. Jeffrey Cummins and Dr. Thomas Holyoke.
Constitution Day Celebrated
The department recently held a very successful forum on the constitutionality of the recently passed federal health care law, a forum held to celebrate Constitution Day (September 17). To watch the entire event, click here.
Political Science Major is ASI President
The department congratulates political science major Pedro Ramirez on his election as president of Fresno State's Associated Students, Inc. For more information, click here.
Faculty Involvement in Lowell Neighborhood Development
Several of our faculty are involved with the Lowell Neighborhood Project, where the University is working with the City of Fresno on a neighborhood revitalization initiative. For the latest on the project see click here.
"December 7, 2009 - Students Raise Concern Over Jesse Morrow Mountain Report
An analysis by California State University, Fresno students of the Jesse Morrow Mountain Draft Environmental Impact Report (DEIR) details concerns about degraded air quality, protection of Native American remains and lack of funding for infrastructure support. Students in an 'environmental learning' class reviewed and analyzed the report, which was released by Fresno County in September. The class is under the direction of Dr. Mark Somma, a professor of political science in the university's College of Social Sciences." To read the complete press release, click here. To read the report, click here and scroll down to the appropriate link.
*******
Panel sponsored by the department and the Political Science Student Associated debated controversial water issues Feb. 4 at Fresno State.
To watch the debate, please click here. [This program requires that Quicktime be installed on your computer. You may download it for free from http://www.apple.com/quicktime/download/ if you do not have it.]
(January 14, 2009) – A public debate on water policy in California and the Central Valley will be moderated by U.S District Judge Oliver Wanger at 7 p.m. Feb. 4, at California State University, Fresno. Agricultural and environmental advocates will face off on the issues.
The debate, which is free and open to the public, will be held in the Satellite Student Union (2485 E. San Ramon Ave. at Maple Avenue, south of Barstow Avenue). It is sponsored by Fresno State's Political Science Student Association and the Political Science Department.
As the presiding judge for the Eastern District of California, Wanger has ruled over most of the major water cases recently in the Valley, including the controversy over preserving Delta smelt in the Sacramento Delta. Wanger will provide brief opening remarks, said Dr. Thomas Holyoke, a political science professor who is coordinating the event. Holyoke said the debate will focus on Valley East Side, West Side and Sacramento-San Joaquin River Delta issues.
"The single most important public policy problem confronting California's Central Valley today is the availability of water," Holyoke said. "The declining snowpack in the Sierra Nevada, the falling groundwater table and decisions to restore smelt in the Delta will most likely mean considerably less water in the future for Valley agriculture."
He said the issue also is forcing state and local policymakers to develop a broad new policy to strike a balance between supporting the agriculture economy and ensuring the quality of water and the environment that depends on it.
The forum will also provide an opportunity for the public to express its concerns, Holyoke said.
Valley agricultural community participants are:
Thomas Birmingham, general manager and general counsel of the Westlands Water District,
Kole Upton, former chairman of Friant Water Users Authority, and
Jim Beck, general manager of Kern County Water Agency.
Representing environmental concerns are:
Lloyd Carter, board member of the California Water Impact Network and Revive the San Joaquin and president of California Save Our Streams Council;
Michael Jackson, board member of California Water Impact Network and counsel to California Sportfishing Protection Alliance and Regional Council of Rural Counties; and
Bill Jennings, chairman of the California Sportfishing Protection Alliance.
Free parking will be available in Lot P at Barstow and Maple and in Lot J off Woodrow Avenue.
For more information, contact Holyoke at 559.278.7580 or by e-mail at tholyoke@csufresno.edu.
DEBATE ISSUES
Valley East Side -- Who is likely to win and lose in Congressional efforts to restore the San Joaquin River? The return of salmon, groundwater recharge, potential loss of water for agricultural irrigation, new recreational opportunities, new freshwater for the Delta, groundwater banks, county of origin and watershed of origin statutes, irrigation districts selling water to Valley cities, and the possibility of a new dam at Temperance Flat.
Valley West Side -- Potential damage to agriculture, loss of jobs, dwindling water supplies, Westlands Water District's claim to San Joaquin River water through a county of origin statute, drainage and selenium problems, and a proposed settlement through federal legislation.
Sacramento–San Joaquin River Delta -- Collapse of the smelt population, fragile levees, Northern California users' concerns, potential impact on Native American tribes and re-emergence of the peripheral canal proposal to route water form the Delta to the Valley and Southern California.
*******
(University Communications news intern Amanda Fine contributed this copy.)