Congratulations to Josh Heupel for being named President's Undergraduate Medalist - the top university award!!!!
Congratulations to graduating majors!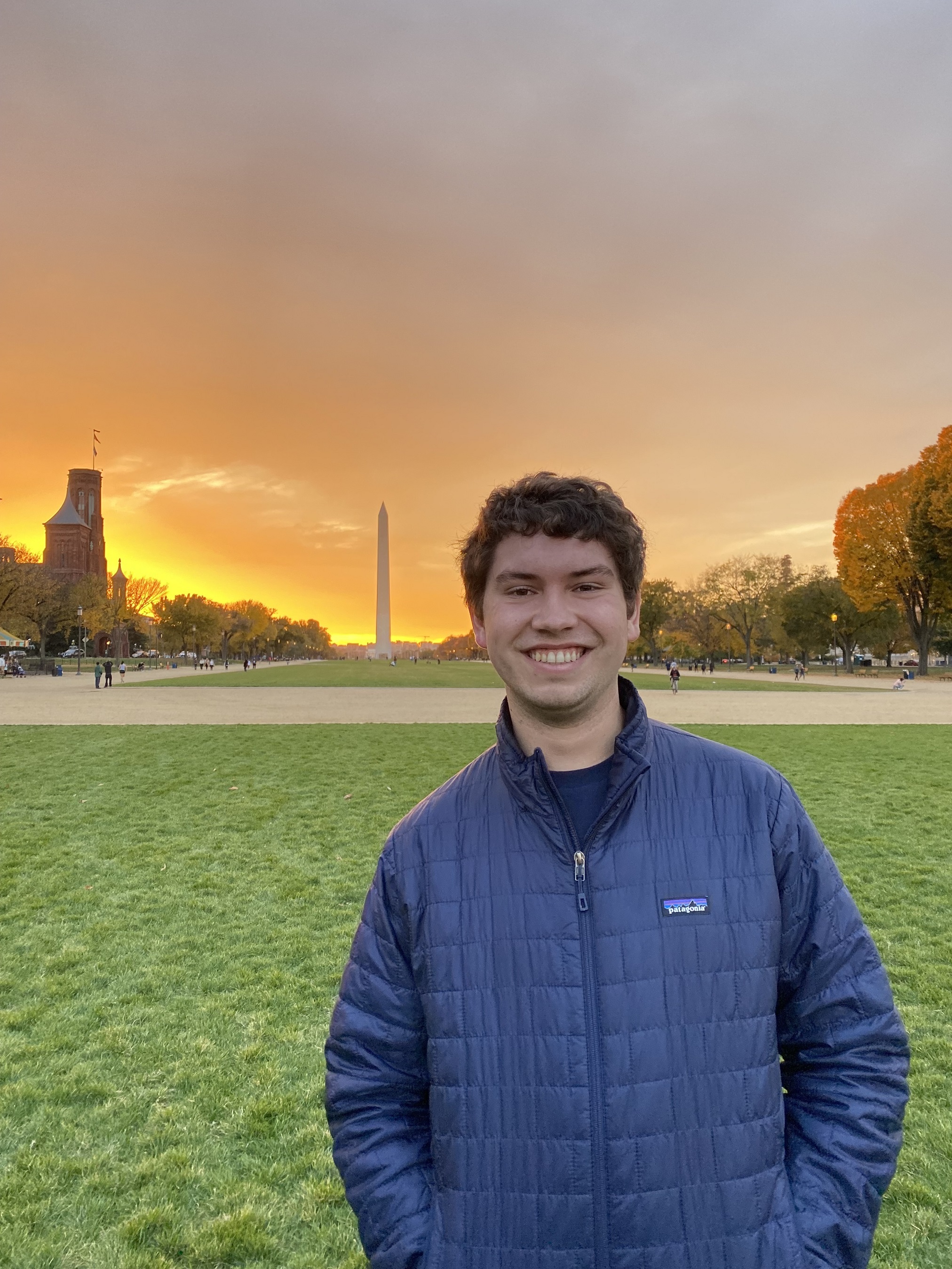 OUTSTANDING POLITICAL SCIENCE STUDENT - Joshua Heupel
Joshua Heupel is a double major in Political Science and Agricultural Business. Joshua is a member of the prestigious Smittcamp Honors College, and he was recently selected as a Rhodes Scholar finalist, only the second in Fresno State's
history. Joshua spent Fall 2022 in Washington, D.C., working in Congress at Fresno State's Panetta Fellow. Josh's College of Social Science honors thesis focused on water rights and how they impact small farmers and those from marginalized groups in the agricultural community.

In addition to being selected the Outstanding Political Science Student, Josh is the Outstanding Student in Agricultural Business and was selected as the 2023 Dean's Medalist for the Jordan College of Agriculture. After graduation, he will pursue a Master's degree in public policy and resource economics at Princeton University.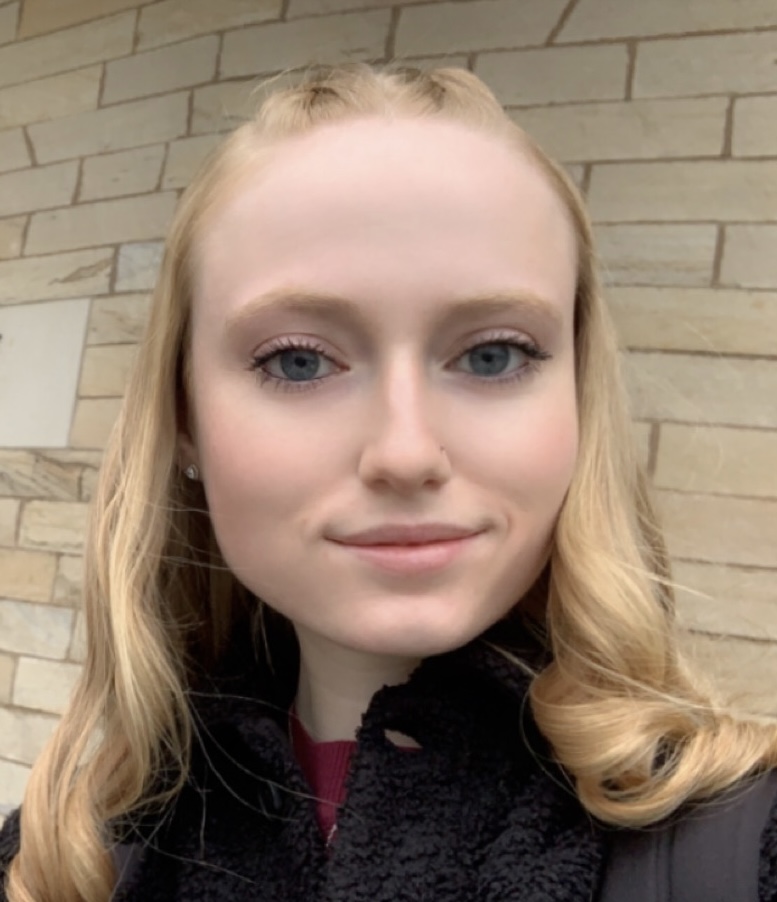 SVENSON AWARD - Madison Steinman
Madison Steinman is the recipient of the 2023 Svenson Award. The Svenson Award goes to a student with outstanding academic prowess in Political Science. Madison started at Fresno State as a transfer student, and since her arrival, she has been very engaged in the campus community. She has been on the President's or Dean's List each semester at Fresno State. She has served the university community as a social science tutor, interned with the Fresno County District Attorney's office, and has been a member (and president) of our very competitive Moot Court Team. Congratulations, Madison!
Welcome!
Political science is more than just examining government structures and discussing elites currently in office. It is the study of who has the power to make laws for a society, the institutional structures that guide how this power is used, who benefits and who loses when this power is used, and the relationship between power and policy in a society. Political science students therefore study voting, elections, the structures of government institutions, and how governments around the world differ and interact.
Our diverse faculty hold degrees from some of the most prestigious universities in the country. They are specialists in local, national, and international politics. Faculty have published research and teach classes on American politics, environmental politics, the philosophy of law, public policy, comparative politics, and international relations. To see a list of recent faculty publications, please click here.
One of our faculty, Dr. Ram, received a Fulbright Schuman European Union Affairs US Scholar research grant and recently returned from her trip to Europe. You can read a story she wrote about her experience here.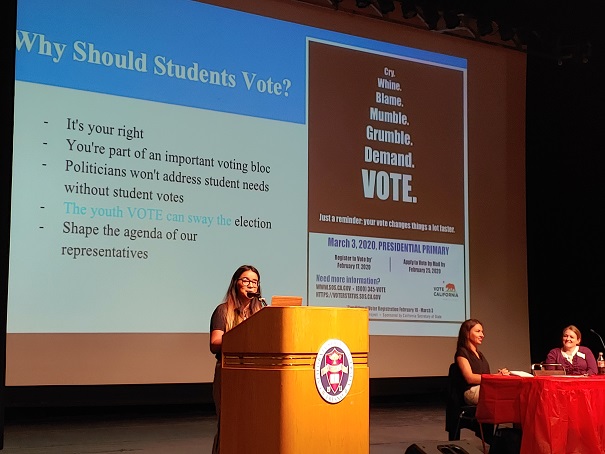 Political science major Elizabeth Rocha Zuniga speaking at a Constitution Day panel with political science faculty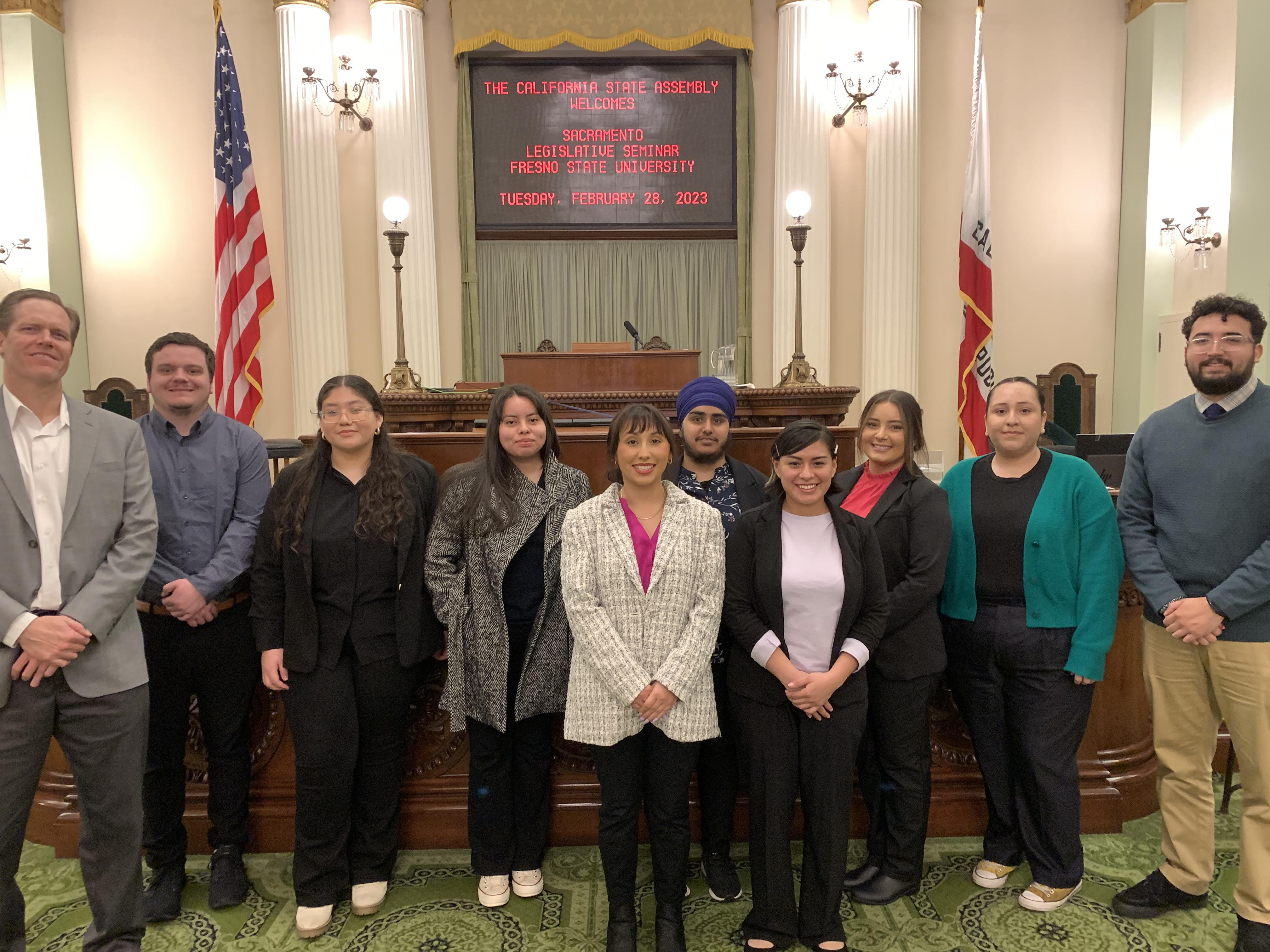 Students with Dr. Cummins at the state legislature.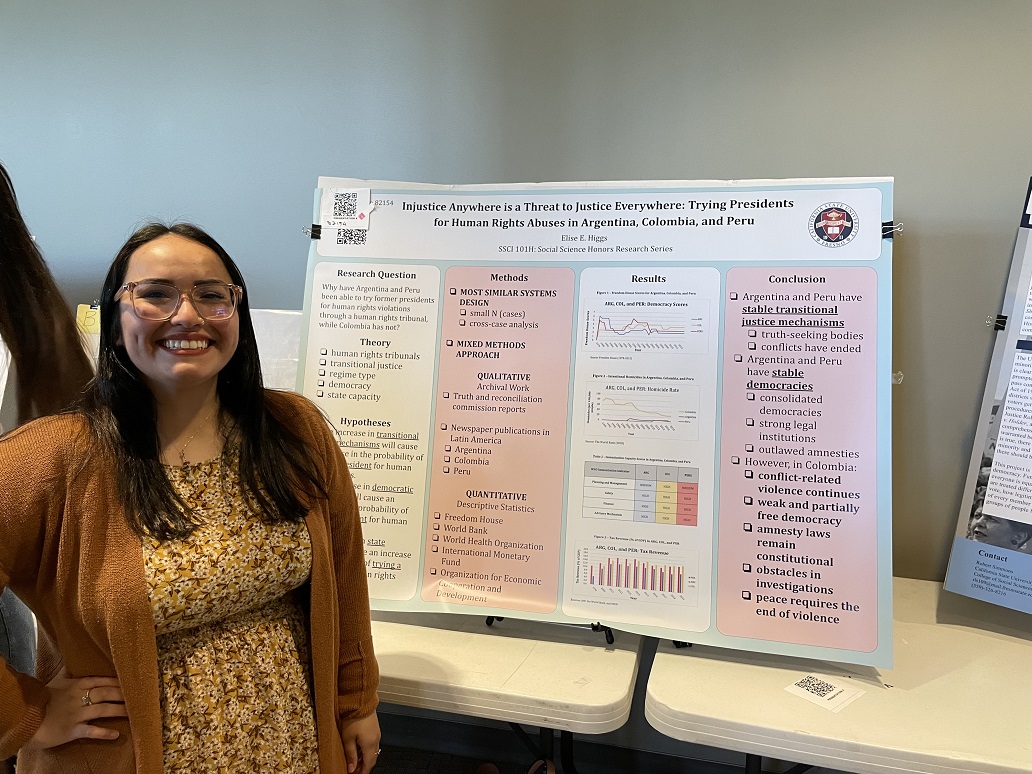 Student Elise Higgs presenting her research.
We offer a bachelor's degree in political science and a master's degree in public administration. Our students have gone on to work in city, county, and state government, and a variety of other careers in the public, private, and nonprofit sectors. Many now work in Washington, D.C. or around the world. Several have even been elected or appointed to public office. Others have gone on to law school and doctoral programs in political science, including the following:
Harvard University
Duke University School of Law
UC Berkeley College of Law
UC Hastings College of Law
UC Davis College of Law
UCLA College of Law
Johns Hopkins University
Cambridge University, UK
UC Merced
University of Southern California
University of Virginia School of Law
University of Pennsylvania Law School
London School of Economics and Politics, UK
Columbia University
Georgetown University Law School
Princeton University
Pennsylvania State University Law School
UC Riverside
University of San Diego Law School
University of Southern California Law School
UC Santa Barbara Graduate School of Education
Notable Alumni
We believe that all of our alumni are notable, but here are a few you may have heard of, or who may give you an idea as to some of the career possibilities open to political science majors.
Lee Brand, Mayor of the City of Fresno
James E. Brumm, Former director of Mitsubishi International
Cruz Bustamante, Lt. Governor of California
Tony Capozzi, Attorney and former president of the California State Bar Association
Luis Chavez, Fresno Unified School District Board of Education
Jim Costa, California State Senator and Member of the U.S. House of Representatives
Larry Farnsworth, Legislative Assistant to U.S. House Speaker Dennis Hastert
Simon Haeder, Assistant Professor of Public Policy, Pennsylvania State University
Diane Johnson, professor and chair of the Department of History and Political Science, Lebanon Valley College
Mike Karbassi, Fresno City Council
Ernest Kinney, Attorney
Devon Mathis, Member of the California State Assembly
Peter Mehas, Fresno County Superintendent of Education and CSU Board of Trustees
Harry Papadakis, Judge
Jim Patterson, Mayor of Fresno and California State Assembly
Rosendo Peña, Jr. - Associate Justice, California Court of Appeals
Henry Perea, Jr., Fresno City Council and California State Assembly
Armando Rodriguez, Fresno County Superior Court Judge
Victor Salazar, Fresno County Clerk
Phillip Sanchez, U.S. Ambassador to Honduras and Colombia
Edward Sarkisian, Judge
Mark Scott, Fresno City Manager
Arthur Svenson, Professor of Political Science, University of Redlands
Mike Villines, Member of Assembly and Assembly Republican Leader
Ian Wieland, Attorney
Direct all questions, comments, and complaints about this webpage to Dr. Holyoke.