Welcome!
Political science is more than just examining government structures and discussing elites currently in office. It is the study of who has the power to make laws for a society, the institutional structures that guide how this power is used, who benefits and who loses when this power is used, and the relationship between power and policy in a society. Political science students therefore study voting, elections, the structures of government institutions, and how governments around the world differ and interact.
Our diverse faculty hold degrees from some of the most prestigious universities in the country. They are specialists in local, national, and international politics. Faculty have published research and teach classes on American politics, environmental politics, the philosophy of law, public policy, comparative politics, and international relations. To see a list of recent faculty publications, please click here.
Congratulations to our outstanding graduates and to all of our graduating students!!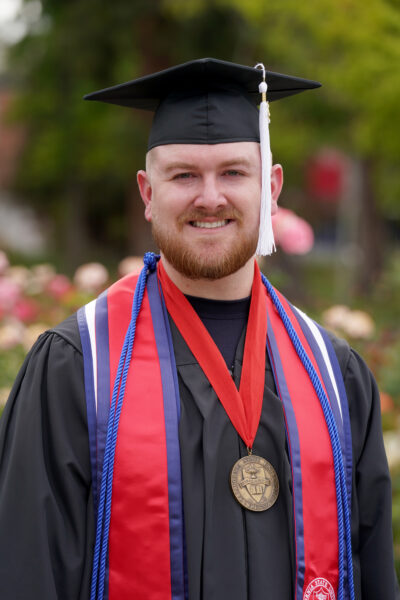 Stephen Hensley - 2022 President's Undergraduate Medalist
Stephen Hensley, a double major in Political Science and Philosophy (Pre-Law), was selected as the President's Undergraduate Medalist, which is the University's top honor for an undergraduate student. Stephen is also graduating with COSS Honors and his senior honors thesis was titled, "Carceral Mechanisms of Political Repression in Post-Soviet Russia and Georgia." Incarcerated at age 17, Stephen earned college credit while in prison and upon release, entered Fresno State's Project Rebound, a program to help formerly incarcerated individuals earn their degrees. Once at Fresno State, he became a student coordinator for Bulldogs for Recovery; co-founded Youngsters for a Change, a nonprofit to help at-risk and formerly incarcerated youth; and serves as co-chair of the Fresno County chapter of the American Civil Liberties Union. Stephen will be attending the University of California, Berkeley School of Law in the Fall.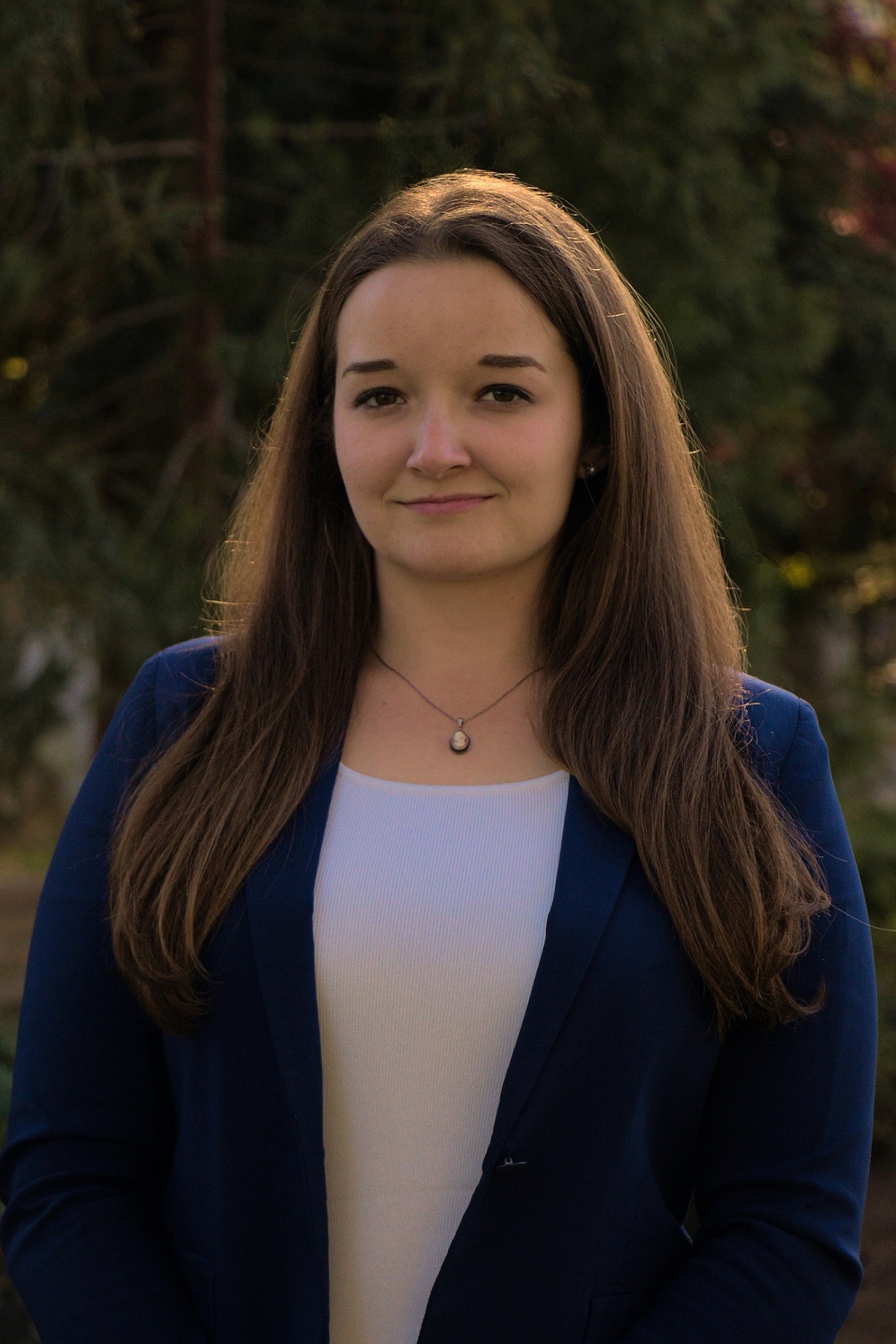 Ann Kreuscher - 2022 Outstanding Political Science Student
Ann is our department's Outstanding Student for 2022. She is Smittcamp Honors College Presidential Scholar and is graduating with COSS Honors. Her honors thesis, "Pay to Play: Gender and Partisan Differences in the Net Worth between Congressional Candidates and Incumbents", was presented at the Midwest Political Science Association's Annual meeting in 2021. Ann served our majors as the President of Pi Sigma Alpha, and under her leadership, the chapter won the Best Chapter Award from the national organization. Ann also represented the department and Fresno State in the prestigious Panetta Fellowship, spending a semester working in Congressional Minority Leader, Kevin McCarthy's D.C. office for the Fall 2021 semester. In her four years at Fresno State, she interned for four other members of the U.S. House of Representatives from the Central Valley. She also interned with the Fresno County District Attorney's office and the U.S. Federal Prosecutor's office. Additionally, Ann worked as a student assistant in the Department of Political Science and held a part-time job outside of school. After graduation, Ann will be attending the University of Virginia School of Law.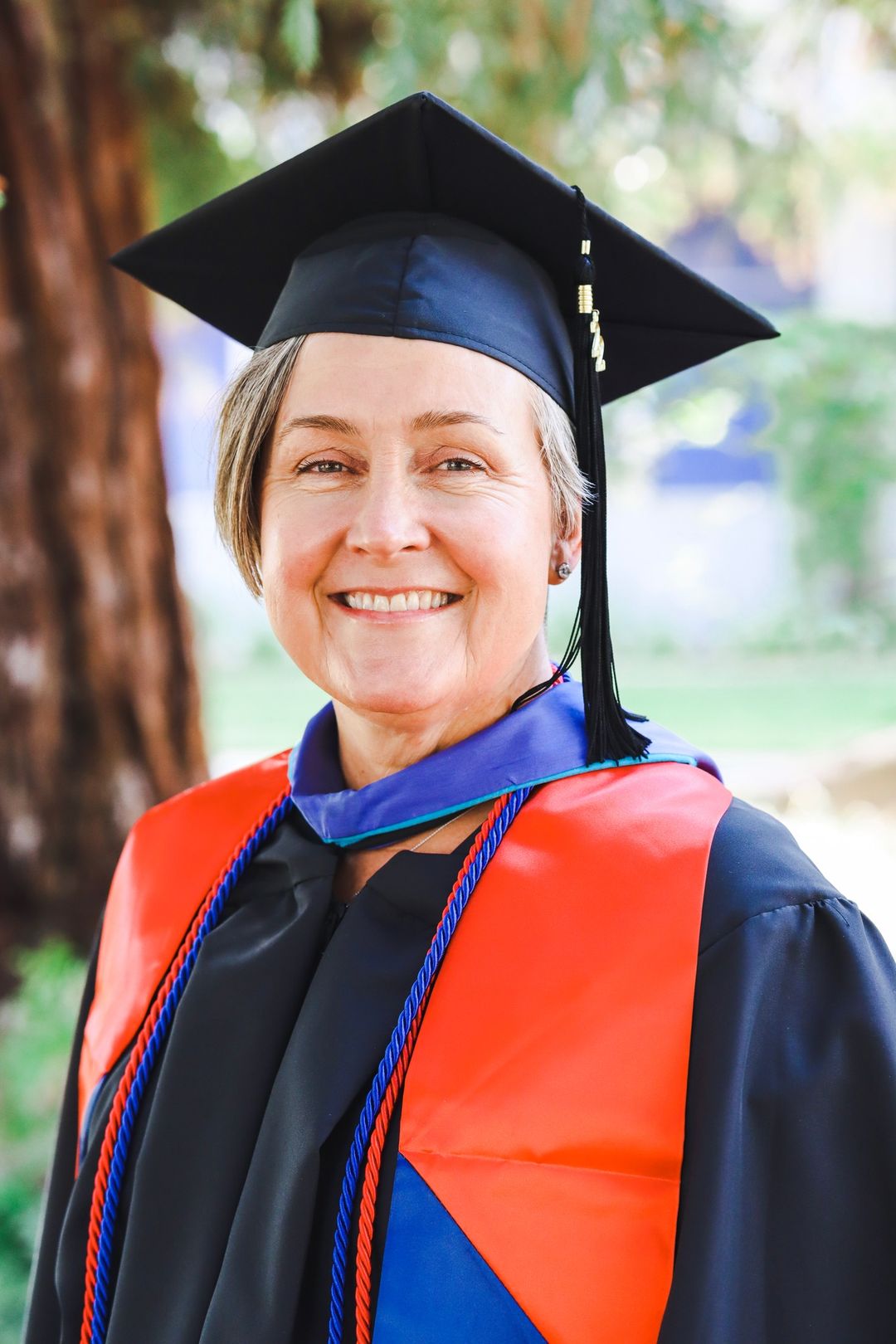 Laura Clark - 2022 Outstanding Graduate Student, MPA & College of Social Science Outstanding Thesis Award
Laura was selected as our Outstanding Graduate Student (Masters of Public Administration)and the COSS Outstanding Thesis recipient for 2022! Laura's thesis, "The Administration/ Educator Influence on the Transition of Students, with Idea Services, from K-12 to Postsecondary/ College During the COVID-19 Pandemic," examined how administrators play a role in guiding students into either a 2 or 4-year institution for their higher educational path. The results are now being presented to local school districts and community colleges. The study has opened discussions between community colleges and the Fresno Unified School District on how to serve students with differing abilities better. In the future, Clark is interested in leveraging any opportunities and connections to assist local educators in helping K-12 students with IEPs transition to a positive postsecondary experience.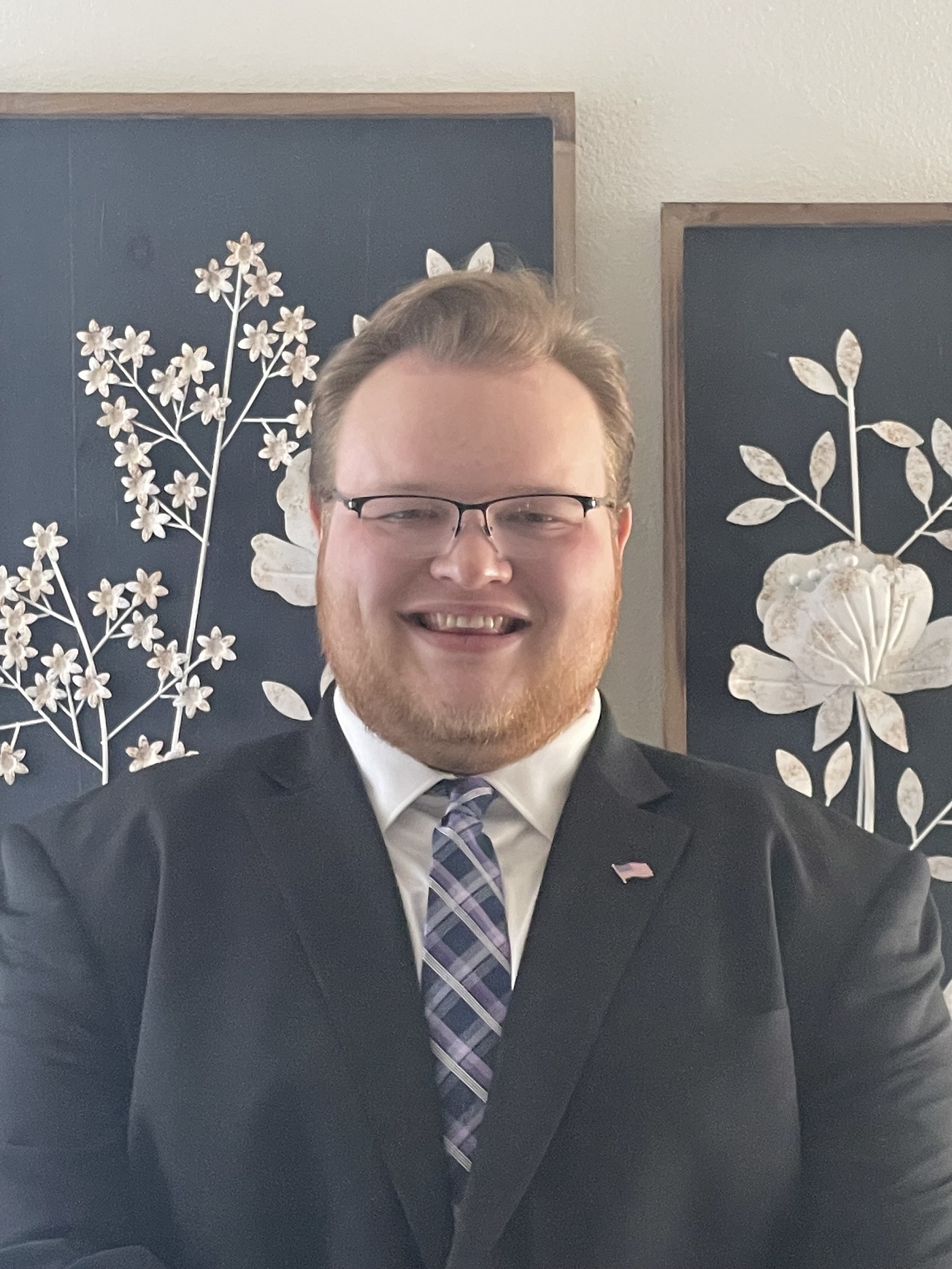 Alex C. Walker, 2022 Svenson Award Recipient
Alex Walker is the inaugural recipient of the Karl Svenson Award. This award, named for former Fresno State Political Science Professor, Dr. Karl Svenson, honors a student who has shown "outstanding academic prowess" in Political Science. Alex, a transfer student from West Hills Community College, entered Fresno State during the pandemic and has demonstrated both outstanding academic and outstanding campus leadership from the beginning. He participated in the COSS Honors Program and in addition to his BA in Political Science will graduate with certificates in legal studies and in social justice and social change. In 2022, Alex was the President of the College of Social Sciences Student Leadership Council. He also served as Vice President of Central Americans For Empowerment, a Peer Mentor for the COSS Linked Peer Mentor Program, was the ASI Election Commissioner, Vice-Chair of the ASI Legal Committee, the campus student representative for the President's Enrollment Management Advisory Group, and the student representative for the Academic Subcommittee on Grading. He has applied to the Capital Fellows Program and plans on studying for the LSAT and applying to law school next year.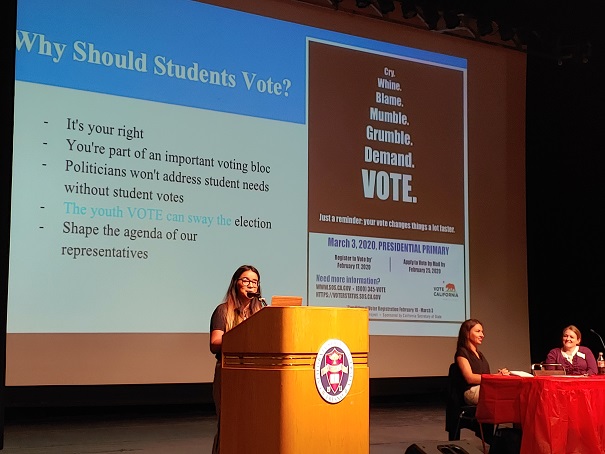 Political science major Elizabeth Rocha Zuniga speaking at a Constitution Day panel with political science faculty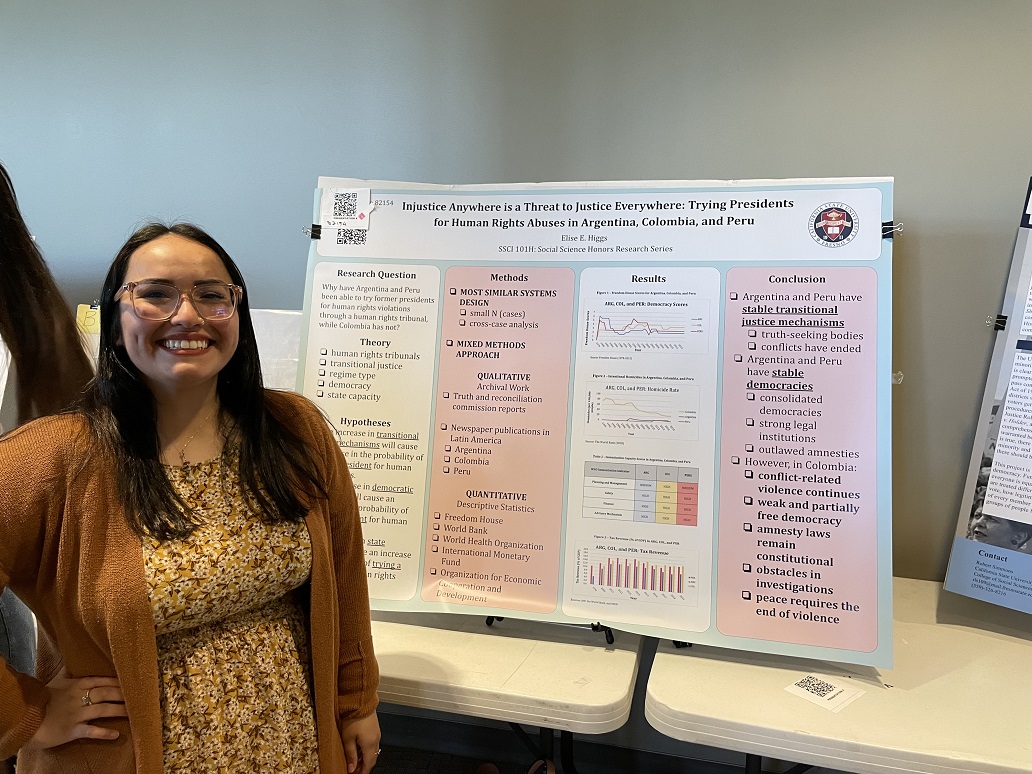 Student Elise Higgs presenting her research.
We offer a bachelor's degree in political science and a master's degree in public administration. Our students have gone on to work in city, county, and state government, and a variety of other careers in the public, private, and nonprofit sectors. Many now work in Washington, D.C. or around the world. Several have even been elected or appointed to public office. Others have gone on to law school and doctoral programs in political science, including the following:
Harvard University
UC Berkeley College of Law
UC Hastings College of Law
UC Davis College of Law
UCLA College of Law
Johns Hopkins University
Cambridge University, UK
UC Merced
USC Price School of Public Policy
University of Pennsylvania Law School
London School of Economics and Politics, UK
Columbia University
Georgetown University Law School
UC Riverside
University of San Diego Law School
University of Southern California Law School
UC Santa Barbara Graduate School of Education
Notable Alumni
We believe that all of our alumni are notable, but here are a few you may have heard of, or who may give you an idea as to some of the career possibilities open to political science majors.
Lee Brand, Mayor of the City of Fresno
James E. Brumm, Former director of Mitsubishi International
Cruz Bustamante, Lt. Governor of California
Tony Capozzi, Attorney and former president of the California State Bar Association
Luis Chavez, Fresno Unified School District Board of Education
Jim Costa, California State Senator and Member of the U.S. House of Representatives
Larry Farnsworth, Legislative Assistant to U.S. House Speaker Dennis Hastert
Simon Haeder, Assistant Professor of Public Policy, Pennsylvania State University
Diane Johnson, professor and chair of the Department of History and Political Science, Lebanon Valley College
Mike Karbassi, Fresno City Council
Ernest Kinney, Attorney
Devon Mathis, Member of the California State Assembly
Peter Mehas, Fresno County Superintendent of Education and CSU Board of Trustees
Harry Papadakis, Judge
Jim Patterson, Mayor of Fresno and California State Assembly
Rosendo Peña, Jr. - Associate Justice, California Court of Appeals
Henry Perea, Jr., Fresno City Council and California State Assembly
Armando Rodriguez, Fresno County Superior Court Judge
Victor Salazar, Fresno County Clerk
Phillip Sanchez, U.S. Ambassador to Honduras and Colombia
Edward Sarkisian, Judge
Mark Scott, Fresno City Manager
Arthur Svenson, Professor of Political Science, University of Redlands
Mike Villines, Member of Assembly and Assembly Republican Leader
Ian Wieland, Attorney
Direct all questions, comments, and complaints about this webpage to Dr. Holyoke.