B.A. in Political Science
Political science is fundamentally about who has power in our society, why they have it, and how they use it. It is also about how people can become involved determining who wields power by learning to better understand and participate in political process locally, nationally, and internationally.
Students working towards a bachelor's degree can take a wide variety of courses in American government, state and local government, protest politics, international relations, law, and political research methodology. Students can choose one of our optional tracks depending on their area of interest:
Our students have gone on to find rewarding careers as lawyers, congressional aides, public servants, staff in international organizations, professors, and several have even been elected to public office (please see our home page for a list of especially notable alumni). They live and work here in the Central Valley, in Sacramento, in Washington, D.C., and all over the world.
If you wish to change your major to Political Science, or add it as a minor, please complete this change of major form.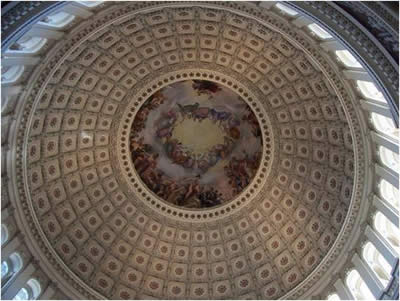 MAJOR REQUIREMENTS
Total units required for major: 36-39 units* (all courses are 3 units)
Required lower division core courses (6 units)
PLSI 1 - Modern Politics (must first complete GE Area A2 class with a grade of C or better)
PLSI 90 - Methods of Analysis
NOTE: In addition to PLSI 2 (American Government), these courses must be completed before, or concurrently with, enrollment in the first 6 units of upper division major courses.
Required upper division core courses (12 units)
PLSI 120 - International Politics (must first complete all GE Foundation classes, A1, A2, A3, and B4, with grades of C or better. Must also have passed GE Breadth Area D courses with a grade of D or better. Freshmen may not take this course.)
PLSI 140 - Approaches to Comparative Politics (must first pass PLSI 1 with a grade of C or better)
PLSI 150 - Public Policy Making
One of these two courses:
PLSI 110 - History of Political Thought to Machiavelli
PLSI 111 - History of Political Thought Since Machiavelli
Political Science electives (18 units)
Select 18 units (6 courses) from political science upper division (100 level) courses offered in the catalog (with the exception of PLSI 102 [1 unit]). You may use the optional tracks above or consult a faculty member to help guide your selection.
Capstone course* (3 units)
Choose one of the following:
[*Capstone course is required for all students (new and transfer) admitted to Fresno State from fall 2019 (catalog year 2019-2020 and later). It is optional for other students.]
We recommend following this roadmap for the approximate order in which to take your classes, including General Education requirements of up to 49 units and your upper division writing requirement. Earlier catalog years may have different graduation requirements. Check your Degree Progress Report (DPR) for your specific requirements.
Additional requirements:
Students must earn a grade of "C" or better in each of their six core major courses and their capstone course.

Credit / No Credit grading is not permitted in the political science major.
For catalog years prior to 2021, you may need to take a Multicultural / International (MI) course outside of Political Sceince (in addition to PLSI 120). Check your Degree Progress Report (DPR).
LEGAL STUDIES CERTIFICATE
The Department of Political Science and Department of Criminology offer a joint Certificate in Legal Studies to undergraduate students interested in pursuing careers in law. The program is open to students in all majors. Details are available here
MINOR REQUIREMENTS
Our Department offers a minor in Political Science (21 units), a minor in Public Administration (21 units), and a joint minor with the Department of Economics in International Political Economy (18 units).
Political Science Minor Requirements
PLSI 1 (3 units)
Upper-division core: choose* from PLSI 110, 111, 120, 140, 150 (3 units)
15 units of 100-level Political Science courses of your choice, which may include core courses not taken
Total: 21 units
Public Administration Minor Requirements
PLSI 1, 181, 182, 183, 184, 185, or 189T (12 units)
Select from PLSI 103, 110, 111, 114, 150, 151, 160, 163, 170, or 175 (9 units)
Total: 21 units
[*Students prior to catalog year 2019-2020 are required to take PLSI 110 or 111 as their upper-division core or obtain approval from the Department Chair to substitute PLSI 120, 140, or 150 for this required course.]
International Political Economy Minor Requirements
International political economy is the systematic inquiry into the political and economic forces generating wealth and social change on a global scale.
Political Science (9 units)
PLSI 120* (3 units)
Electives (6 units): select from: PLSI 121, 122***, 125, 126, 128T, 140**, 141, 142T, 143T, 144T, 145T, 146T, 149T
* GE Foundation and Breadth Area D are prerequisites for this course.
** PLSI 1 is a prerequisite for this course.
*** If you are in a catalog year prior to 2019-2020, request Chair's approval to count course for minor.
Economics (9 units)
Electives (9 units): select from: ECON 114*, 178*, 179, 181**, 183**, 185*, 190
* ECON 40 and 50 are prerequisites for these courses.
**GE Foundation and Breadth Area D are prerequisites for these courses.
Total: 18 units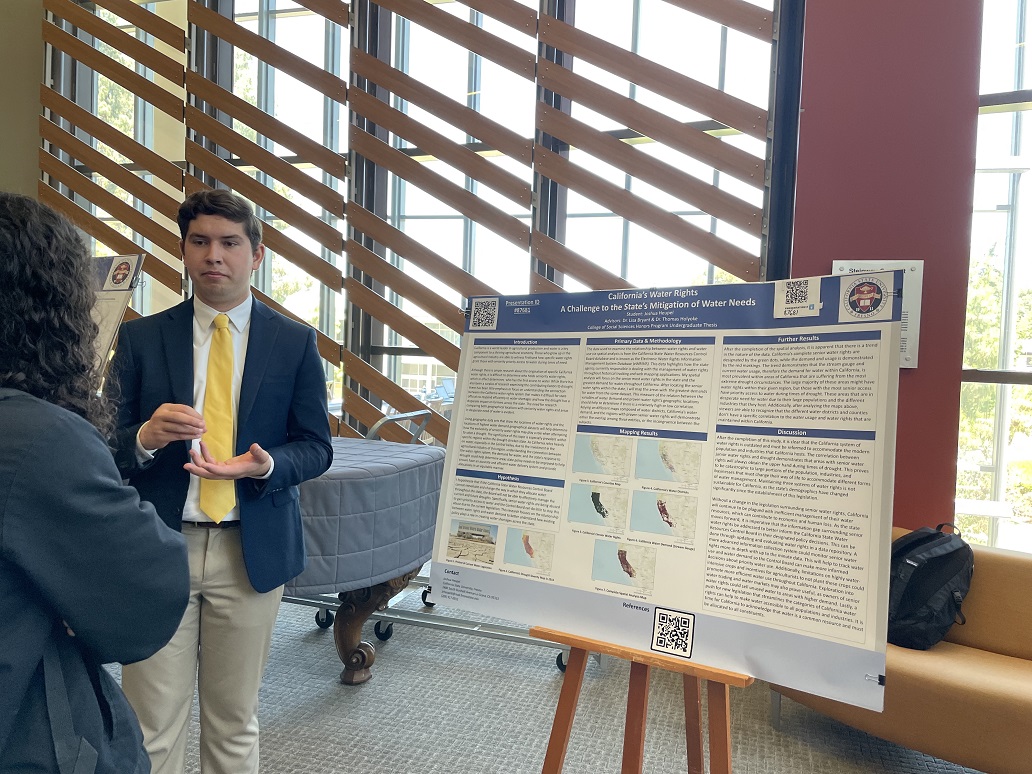 Students Josh Heupel (above) and Robert Simmons (below) presenting their research