Pi Sigma Alpha, the political science honors society
Pi Sigma Alpha is the Political Science honor society at Fresno State. Meetings are held every other week with an attempt to bring political science students closer together, celebrate the students' achievements, and engage in community and government involvement.
Article II of Pi Sigma Alpha - Alpha Delta Beta Chapter's Constitution: "The purpose of this organization is to stimulate productive scholarship and intelligent interest in the subject of politics; to seek and promote a better understanding of government among its members; to promote worthwhile curricular activities related to political science; to advance and diffuse knowledge and interest in political science and to encourage beneficial interaction among the students and faculty of the CSU Fresno political science department."
Benefits include: A Pi Sigma Alpha pin and certificate, networking, community engagement, and an honorary medallion and robe for graduating seniors.
Officers for AY 2020-2021:
President: Ann Kreuscher
Vice President: Allie Mercado
Treasurer: Efrain Heredia
Secretary: Guadalupe Cruz
Requirements: Members must be juniors, seniors, or graduate students and have completed at least twelve semester-credits of work in Political Science courses earning a 3.0 GPA or higher in these courses.
For questions contact annkay@mail.fresnostate.edu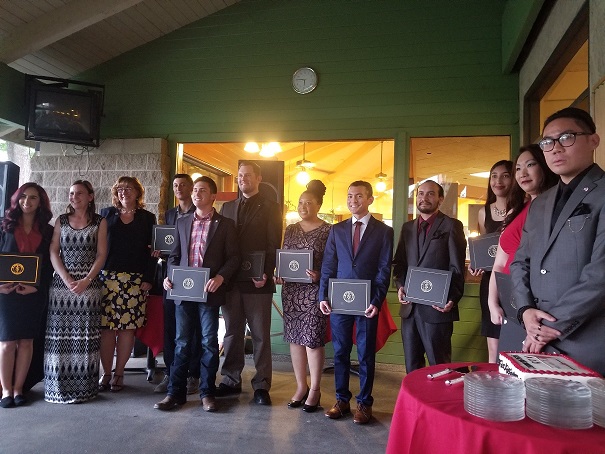 The inaugural class of Fresno State, 2018.
The inaugural cake!